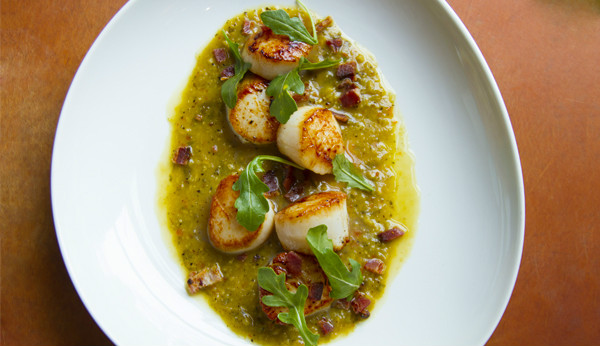 From Season 8, Mexico—One Plate at a Time
Ingredients
1

pound (6 to 8 medium)

tomatillos,

husked and rinsed

2

fresh serrano chiles,

stemmed

1

cup

white wine

2/3

cup

pitted green olives, preferably manzanillos, roughly chopped

1

tablespoon

olive oil

4

garlic cloves, peeled and finely chopped

1/4

cup

fresh epazote,

finely chopped

10

sprigs

fresh cilantro (thick bottom stems cut off), finely chopped

1

cup

lobster, fish or chicken broth

Salt

4

strips

bacon, cut into 1/2-inch pieces

12

(1 1/4 pounds)

sea scallops, preferably ones that are diver caught and dry packed

1

cup

baby arugula

2

tablespoons

fresh lime juice
Instructions
Prepare the tomatillo base. Roast the tomatillos and chiles on a rimmed baking sheet 4 inches below a very hot broiler, until blotchy black and soft (the tomatillos will turn from lime green to olive), about 5 minutes. Flip everything over and roast the other side. Cool, then transfer to a blender or food processor, including all the delicious juice the tomatillos have exuded during roasting. Pulse a few times, then add the white wine and olives and process to a coarse puree.
 Finish the sauce. Heat the oil in a large (4-quart) saucepan over medium high. Once hot, add the garlic and stir until golden brown, about 1 minute. Scrape in the tomatillo sauce and cook until the mixture has reduced to the consistency of thick tomato sauce, about 4 minutes. Reduce the heat to medium and add the epazote, cilantro and broth and simmer for 15 to 20 minutes until the consistency is like a light cream sauce. Taste and season with salt, usually 1 teaspoon depending on the saltiness of the broth. Keep warm until you're ready to serve.
 Cook the bacon. While the sauce is simmering, heat a very large (12-inch) heavy skillet (preferably cast iron) over medium-high. Add the bacon and cook until crispy and browned, about 10 minutes. Scoop out the bacon (leaving the bacon drippings behind) and drain on paper towels.
Sear the scallops. Heat the skillet with the bacon drippings over medium-high heat. Pat the scallops dry with a paper towel and season both sides with salt. When the pan is very hot, lay in the scallops. Saute until golden brown, about 2 to 3 minutes per side, or until medium rare. Transfer the scallops to a warm plate.
Finish the dish. In a small bowl, toss the arugula with the lime juice and sprinkle with salt. Ladle the warm tomatillo-olive sauce on the bottom of each of 4 warm dinner plates. Place three scallops on each plate and top with some of the dressed arugula. Sprinkle with bacon. You're ready to serve.