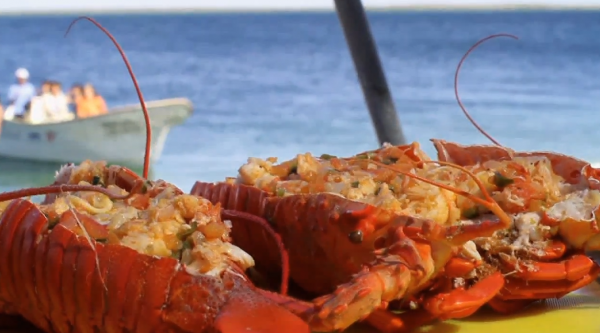 From Season 8, Mexico—One Plate at a Time
Ingredients
4

whole lobsters (1 1/2 pounds each)

2

tablespoons

olive oil

1

very large

white onion, cut into 1/4-inch pieces (you'll have 3 cups)

12

ounces (3 to 4 plum or 2 medium-small round)

tomatoes,

cut into 1/2-inch pieces (you'll have 4 cups)

2 to 3

large

poblanos,

seeded and deveined, cut into 1/4-inch pieces (you'll have 2 cups)

Salt

4

large

garlic cloves, peeled and finely chopped

2

ounces (1/2 stick, 4 tablespoons)

unsalted butter

4

ounces

melting cheese, such as Monterey Jack, mild cheddar or brick, shredded (you'll have 1 cup)
Instructions
Fill a very large (12-quart) stockpot three quarters full of water. Bring to a boil, partially covered, over high heat. Lower two lobsters into the pot, head first and once submerged, cover the pan. Boil for 8 minutes and carefully remove the cooked lobsters. Repeat the process with the two remaining lobsters. Once cool, twist off the claws and knuckles, crack them and remove the meat. Cut off the walking legs and the swimmerets from the underside of the tail. Set the legs aside for another use and discard the swimmerets. Using a large knife, split the lobster lengthwise down the center from the underside, but don't cut all the way through. Discard everything in the top section of the shell. Remove the tail meat and roughly chop it along with the meat from the claws. Set aside.
Heat the oil in a very large (12-inch) skillet over high. Add the onion, tomatoes, poblanos and 1 1/2 teaspoons salt. Cook stirring occasionally until the liquid has evaporated and the vegetables are softened, about 15 minutes. Stir in the garlic and the butter and continue cooking until the butter has melted. Remove from the heat and stir in the lobster meat. Taste and add more salt, if necessary. (Hubert added cubes of Oaxacan string cheese to the filling, which you can do if you'd like.) Divide the filling between the four lobster shells. Sprinkle the shredded cheese over the top (about 1/4 cup per lobster.)
Turn on a gas grill to medium or light a charcoal grill and let the coals burn until medium-hot and covered with ash (or heat an oven to 425 degrees). Place the lobsters directly on the grill grate (or in the oven) and cook until the cheese has melted. Serve immediately.