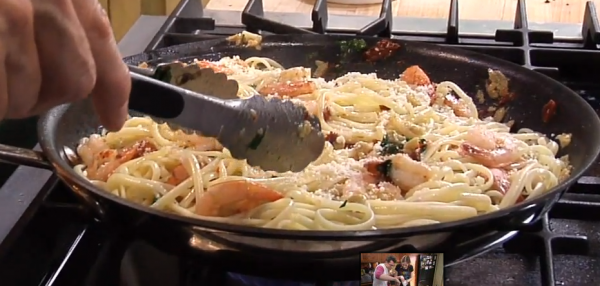 Recipe from Season 7, Mexico—One Plate at a Time
Servings:
8
as a first course, 4 to 6 as a main dish
Ingredients
2/3

cup

Slow-Cooked Garlic Mojo

(stir before measuring)

1

pound

medium shrimp, peeled and (if you wish) deveined

Salt

1 to 3

canned chipotle chiles en adobo,

seeded and finely chopped

1

pound

dried linguine

2 or 3

tablespoons

coarsely chopped watercress, parsley or cilantro

3/4

cup

grated Mexican queso anejo,

Parmesan or Romano
Instructions
Fill a very large (6- to 8-quart) pot about 2/3 full of water. Add 2 tablespoons salt, cover and bring to a boil over high heat.
Meanwhile, spoon 2 tablespoons of the oil from the mojo into a very large (12-inch) skillet. Set over medium-high heat. Pat the shrimp dry, sprinkle with salt and, when the oil is hot, lay them in the skillet. Cook until the shrimp just lose their translucency in the center, about 1 minute per side. Remove the skillet from the heat and stir in the chopped chile(s) and the rest of the mojo.
Slide the pasta into the boiling water, stir, then let boil until the pasta is as done as you like—usually about 6 minutes for al dente linguine.
Remove 1/2 cup of the pasta water, then pour the pasta into a colander set in a sink. Return the pasta and the 1/2 cup water to the pot. Scrape in the shrimp mixture, sprinkle with the chopped watercress, parsley or cilantro, toss together and divide among warm plates. Sprinkle with the grated cheese and serve without hesitation.