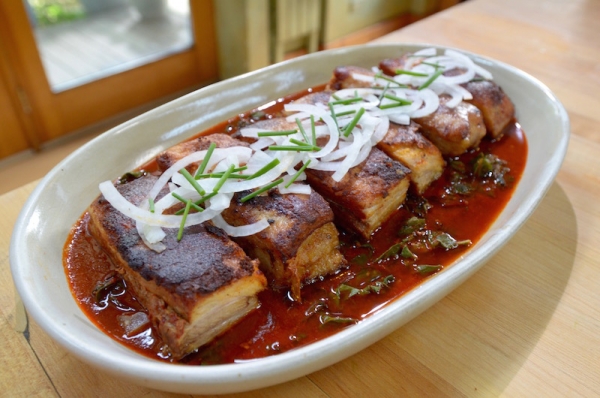 Ingredients
4 1/2

pounds

pork belly, cut into 4 equal portions

4

dried guajillo chiles,

stemmed, seeded and torn into large pieces

3

cloves

garlic, peeled

1

tablespoon

cider vinegar

1

tablespoon

dark brown sugar

1

teaspoon

salt

1

teaspoon

dried Mexican oregano,

1

tablespoon

vegetable or olive oil

2

medium bunches

greens, stems removed, cut crosswise into 1/2-inch strips (about 8 cups)

1/4

cup

chopped chives, for garnish

A few

slices

white onion, for garnish
Instructions
Make the red chile marinade: In a blender jar, add 2 cups of water along with the guajillo, garlic, vinegar, brown sugar, salt, chipotle chiles and oregano. Blend to a smooth puree.  Pour through a medium-mesh strainer into the slow cooker. Add in the pieces of pork belly.
Cover and turn on the slow cooker to high and cook for 4 hours.  (My slow-cooker can be programmed to switch to a "keep warm" temperature for up to another 6 hours. Some slow cookers click to "keep warm" automatically; others need to be switched manually.)
Remove the pork from the marinade and place on a paper-towel lined sheet pan or baking dish.  Place more paper towels on top of the belly and weigh the belly down with a heavy dish or platter.  Allow the marinade to cool before placing in a sealed container.  Keep both in your refrigerator overnight.
Remove the weighted pork belly and marinade from the refrigerator. Spoon away the layer of fat that has separated from the marinade.
Film a large (12-inch) skillet with oil and set over medium-high heat.  When hot, add the red chile marinading liquid. Cook, stirring nearly constantly, until the consistency of tomato paste, about 4 minutes.  Taste and season with salt if needed. Add the greens and cook until just wilted 7-8 minutes.
Lightly film a large (12-inch) heavy-bottomed skillet with oil and set over medium-high heat.  Place the belly in the skillet skin side down, allowing to skin to brown, about 5 minutes. Using tongs, flip the belly and cook an additional 5 minutes to brown and warm through.
Spoon the greens and all of the chile sauce into a large serving platter. Lay the pork belly pieces over the top of the greens and garnish with sliced white onions and chives.