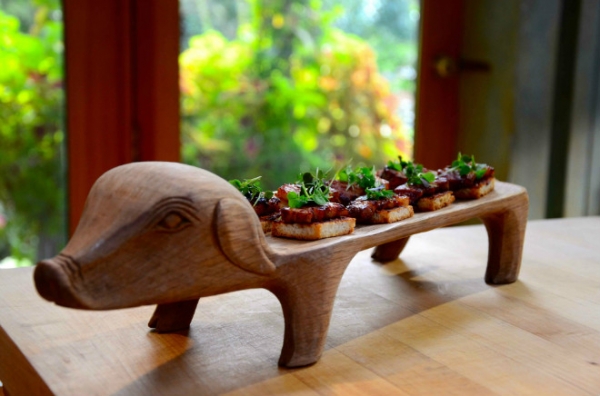 Servings:
20
bite-size snacks
Ingredients
1/2

of a 16-ounce

Pullman-style loaf of brioche, cut into about 5 slices, crusts trimmed and each slice cut into quarters

12

ounces

cooked pork belly (available at specialty groceries like Trader Joes)

1/3

cup

Salsa Negra

Microgreens or chopped chives, for garnish
Instructions
Heat the oven to 400 degrees.   Brush the bread with Salsa Negra on one side and place salsa-side down on a baking sheet.  Slide into the oven and toast until crispy, 10 to 12 minutes.
Cut the pork belly into 10 slices (they should be about ¼ inch thick), then cut each slice in half.  Heat a large (12-inch) skillet set over medium-high.   Lay in the pork belly and brush the top of the pork with Salsa Negra.  When browned and crisp underneath, flip the pork over and brush the other side with the salsa.  Place the pork belly on toast and garnish with microgreens or chives.  Your delicious bites are ready for your guests.