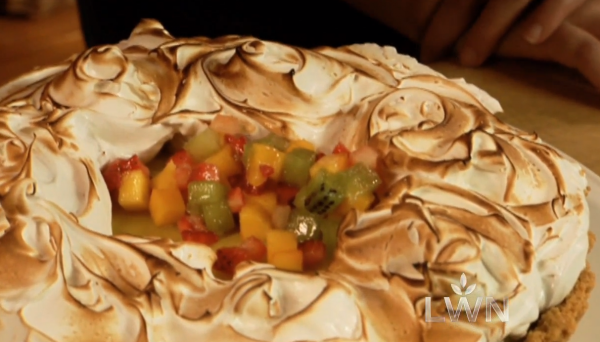 Recipe from Season 5, Mexico—One Plate at a Time
Ingredients
For Crust:

3

ounces (6 tbsp)

butter

4

ounces (about 32)

Mexican "Maria" cookies (or 16 Graham crackers)

3

tablespoons

sugar

For Filling:

1

cup

sugar

1/4

cup

corn starch

1 1/3

cups

cold water

A

big pinch of

salt

6

egg yolks

1/3

cup

fresh lime juice, plus the finely grated zest of 1 large lime

3

tablespoons

butter

For the topping:

4

eggs whites (you should have 1/2 cup)

1

cup

sugar

1

large

ripe mango, peeled, flesh cut from the pit and cut into 1/4-inch dice

Sprigs of mint, for garnish
Instructions
The crust. Heat the oven to 325 degrees. In a small saucepan, melt the butter, letting it brown slightly. Break the cookies (or crackers) into a food processor and pulse until pulverized. Add the 3 tablespoons of sugar and melted butter, then continue to pulse until the mixture begins to clump slightly. Set aside 3 tablespoons of the crumb mixture to use as a garnish for the tart. Press the remainder evenly over the bottom and sides of 8-inch tart pan with removable bottom. Bake until lightly browned, about 15 minutes.
The filling. In a medium (3-quart) heavy-bottom saucepan, whisk together the 1 cup of sugar, cornstarch, water and salt. Set over medium heat and whisk until the mixture begins to boil (it will be quite thick), 3 or 4 minutes. Add the egg yolks to the hot mixture and immediately whisk vigorously until thoroughly incorporated. Lastly, whisk in the lime juice, zest and butter. Continue whisking until the mixture returns to a boil. Remove from the heat and pour into the crust. Let cool to room temperature, then refrigerate, covered with plastic wrap, until the filling is chilled and nicely set. (The tart can made 24 hours ahead up to this point.)
Finish the pie. In the metal bowl of an electric mixer, whisk together the egg whites and remaining 1 cup of sugar over a pan of simmering water until the egg whites are very warm to the touch. Remove from the heat and beat with the electric mixer until cool, about 5 minutes; the meringue should be thick and fluffy and hold glossy stiff peaks. (The meringue may be prepared up to 24 hours ahead; cover and refrigerate.)
Shortly before serving, preheat the oven to 500 degrees or set out a propane or butane torch. Scoop the meringue into a ring around the outside edge of the tart (an ice cream scoop works well), then use the back of a spoon or a small spatula to form dramatic peaks in it. Place in the oven for 2 or 3 minutes, until the meringue is evenly browned, or brown the meringue with the torch, moving it back and forth over the surface until browned. Fill the center with the chopped mango, sprinkle with the reserved crumbs and decorate with mint, if you wish. A little mango sauce (pureed mango, sugar, a dash of water and a little orange liqueur) or chopped strawberries (or whole raspberries) make a beautiful plate with wedges of Mango-Lime Tart.