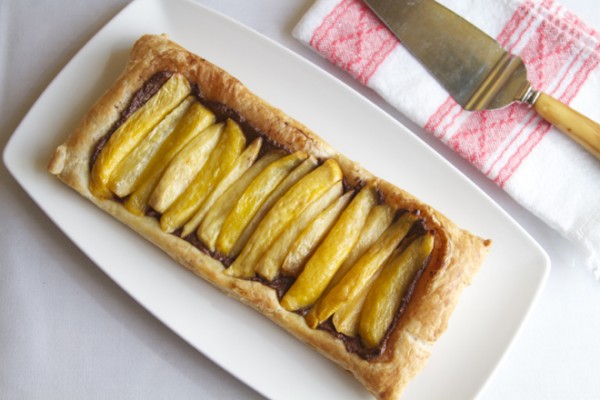 Recipe from Season 6, Mexico—One Plate at a Time
Ingredients
2

tablespoons

butter

2

small (about 1 3/4 pounds total)

ripe - but not over-ripe - mangos, peeled, flesh cut from the pits, cut into 3/4-inch slices.

2

tablespoons

sugar

1/2

3-ounce round of

Mexican chocolate

(Ibarra brand is readily available), roughly chopped

1

ounce

bittersweet chocolate, roughly chopped

1/3

cup

pepitas,

toasted and salted

1/4

cup

almond butter (look for it in natural foods stores or sections of your grocery store)

1/2

of a 1 pound package of

puff pastry
Instructions
Caramelize the mangos. In a large (12-inch) non-stick skillet over medium-high heat, melt the butter. When it begins to brown, add the mangos. Stir frequently for a couple of minutes until the fruit releases its juice. Sprinkle the sugar over the mango and continue stirring frequently until all the liquid has evaporated and the mango has begun to caramelize, about 4 minutes. Cool.
Make the chocolate-pepita filling. Turn on the oven to 400 degrees and position the rack in the middle. Scoop the 2 chocolates into a food processor. Pulse until finely chopped, then add the pepitas and continue pulsing until they, too, are finely chopped. Scrape down the sides, then scrape in the almond butter. Process until the mixture is smooth, scraping down the sides as needed.
Bake the tart. Unroll the puff pastry. (If you are using the widely available Pepperidge Farms puff pastry, the sheet will be 10 x 10 inches; if yours isn't, cut it to that size.) Cut into 2 rectangles 5 x 10 inches each and place them onto a baking sheet lined with parchment paper or a silicone mat. Spread the chocolate mixture over the puff pastry, leaving a full 1-inch border all around. Top with the cool mango slices in an even layer. Bake until the pastry is richly brown and mango richly caramelized, about 25 minutes.