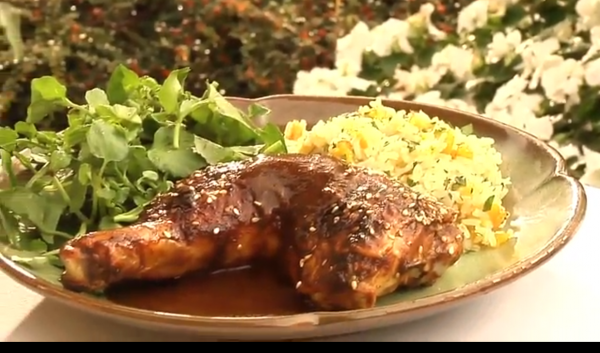 Recipe from Season 7 Mexico - One Plate at a Time
Ingredients
1/2

cup

agave syrup (preferably organic raw) or dark corn syrup

24

portions of

chicken—24 leg-and-thigh pieces, 24 bone-in chicken breast halves or a mixture of the two

Salt and Fresh Ground Pepper

Reserved toasted sesame seeds from the Classic Red Mole recipe

Sprigs of watercress or flat-leaf parsley for garnish
Instructions
Heat the oven to 350 degrees.
In a small (2-quart) saucepan, mix together 1 cup of the mole with the agave nectar or corn syrup. Simmer over medium heat until glossy and reduced to 1 cup, about a half hour. On rimmed baking sheets, lay out the chicken in a single layer. Sprinkle with salt and pepper. Bake for 45 minutes (the chicken should be tender to the bone at this point—leg-and-thigh portions should register 165 degrees at the thickest part on an instant-read thermometer).
Raise the oven temperature to 400 degrees. Tip off the juices that have collected around the chicken, then brush the pieces liberally with the glossy mole mixture. Sprinkle with the reserved sesame seeds. Bake for 10 minutes to set the glaze.
Remove from the oven, let stand at room temperature for 10 minutes, then slide into a very low oven to keep warm until serving time—preferably no longer than 30 minutes.
Serve each portion of chicken with about 1/2 cup of warm mole, decorated with watercress or flat-leaf parsley.