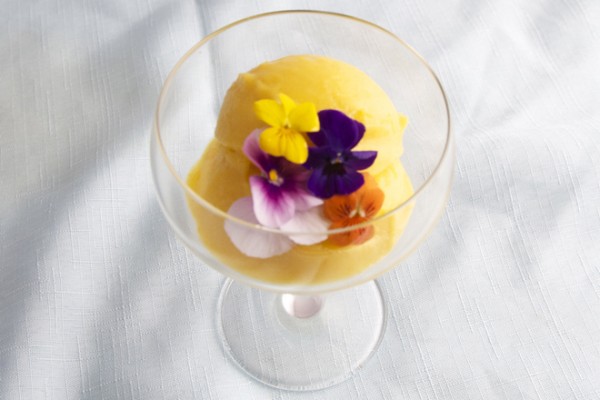 Tropical fruit ices, fruit popsicles called paletas, ice milks and ice creams are a way of life in Mexico.  Places like Oaxaca are legendary for their slushy ices and ice milks in every flavor imaginable (avocado, corn, roses, burnt milk, even crumbled crispy pig skin), canisters of which are spun in salty ice baths, stirred occasionally with big paddles, then served as a thick slush or soupy granita.

Mango is the perfect fruit to choose when making an ice by the still-set (rather than an ice-cream machine) method, since its dense flesh turns out an almost creamy textured ice that's tangy from the lime and just sweet enough to soothe a tongue that has enjoyed a lot of spiciness.  My thanks goes to Harold McGee in The Curious Cook for explaining the intricacies of making fruit ice. Using this method, you'll want to start the night before serving, or at least early in the day of your dinner.
Servings:
4
cups (6 to 8 healthy servings)
Ingredients
4

large (2 1/4 pounds total)

mangoes, peeled, fruit cut away from the pit and coarsely chopped (you need about 2 heaping cups)

The finely chopped zest (colored rind only) of 1 orange

1 1/4

cups

sugar

1/3

cup

fresh lime juice
Instructions
In a food processor, combine the mangoes, orange zest, sugar, lime juice and 1 cup of water. Process to a smooth puree, then press through a strainer into a stainless steel bowl or 9x9-inch pan. Freeze until the mixture is firm 2 inches in from the sides, about 2 hours. Whip with an immersion blender or scrape into a food processor and process until slushy. Repeat the freezing and beating 2 more times, then freeze at least 1 hour before serving.
It is best to eat the ice within a day, because it will become progressively more icy. If the finished ice has been in the freezer for several hours, soften it in the refrigerator for half an hour before serving.
Variations and Improvisations
This same process works well with 2 heaping cups of coarsely chopped, not-too-watery tropical fruits like mamey, guanabana, chirimoya, black zapote and chico zapote; they may not need as much lime juice to bring out their flavor. Guava is best cooked with the sugar until tender, then strained; it will need less lime juice. Juicier fruits like papaya, nectarine and peach should be used in larger proportions (2 1/2 heaping cups) with less water (about 2/3 cup). Sugar on all these versions can be varied, depending on the sweetness of the fruit, though if you eliminate too much, the ice will be icy.