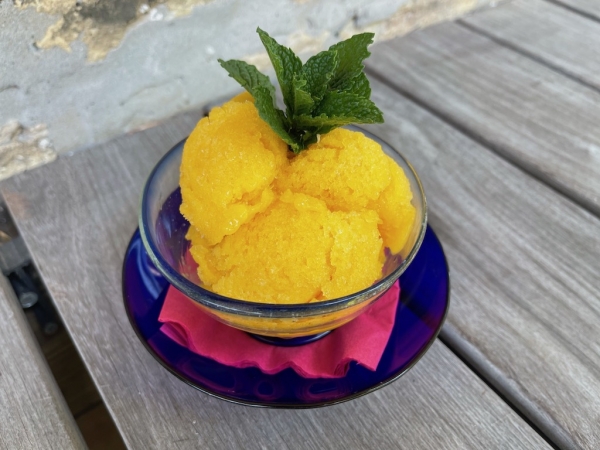 Ingredients
2 1/2

pounds (4 large)

mangos (preferably Honey Manila/Champagne/ataúlfo mangos), peeled, fruit cut away from the pit and coarsely chopped (about 2 heaping cups)

1 1/4

cups (8 ¾ ounces)

sugar

1/3

cup

fresh lime juice
Instructions
Make the puree. In a blender or food processor, combine the mango, sugar, lime juice and 1 cup of water.  Process to a smooth puree.  
Freeze the puree. Freeze the mixture according to the manufacturer's directions on your ice cream maker.  When it is the consistency of soft serve, scrape the mixture into a container, cover and freezer for several hours to firm.  If the mango ice has become very firm in the freezer, move it to the refrigerator for half an hour or so before serving.

No ice cream freezer?  A great thing about mango is that it is so beautifully pulpy, you can "still freeze" directly in your freezer. Scrape the mixture into a 9x9-inch pan and set in the freezer for about 2 hours (until the outer 2 inches of the mixture feels firm).  Stir thoroughly to break up clumps, then freeze for another couple of hours and stir thoroughly again.  One more round of freezing is usually enough, though this time, I usually scrape the mixture into the food processor (or use an immersion blender) and smooth the mixture completely.  Depending on the temperature of your freezer, another half-hour or so will usually give the mango ice a great texture for serving.