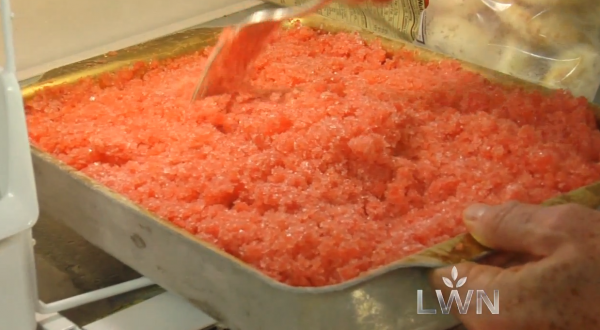 Recipe from Season 6, Mexico—One Plate at a Time
Ingredients
7 to 8

pounds

seedless watermelon

1 1/2

cups

pomegranate juice

1

cup

fresh raspberries

Leaves from a few sprigs of mint

2 large limes (or enough to make 1/4 cup fresh lime juice)

1

cup

sugar
Instructions
Quarter the watermelon, then cut the flesh from the rind and cut the flesh into 1-inch pieces; you should have about 8 cups (3 pounds).
In batches, scoop the watermelon into a blender along with some of the pomegranate juice, raspberries and mint, process to a smooth puree and pour into a large bowl. Add the lime juice and sugar, stirring until the sugar dissolves. Taste for sweet-tart balance, adding more lime or sugar if you think necessary.
Pour the mixture into 9 x 13-inch pan (a metal one works best) and set in the freezer. After 45 minutes, thoroughly stir the mixture, breaking up the large crystals that have formed. Return to the freezer for another 15 minutes, then stir it again. Repeat the freezing-stirring process every 15 minutes until you have a panful of large, fluffy crystals. (The whole process takes about 2 hours.)
Scrape the finished raspado into a freezer container, cover and freeze until you are ready to serve.