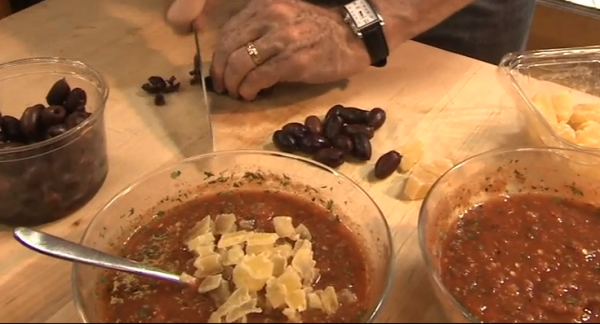 You can substitute other dried fruits for the pineapple.  Apricots, mango or apple will all be delicious in this salsa.
Recipe from Season 7, Mexico—One Plate at a Time

Ingredients
1/3

cup

coarsely chopped dried pineapple

2

tablespoons

fresh lime juice

1 to 2

fresh jalapeno chiles

3

garlic cloves, unpeeled

1

15-ounce

can diced tomatoes in juice, preferably fire-roasted

1/3

cup

coarsely chopped kalamata olives

1/4

cup (loosely packed)

chopped fresh cilantro

Salt
Instructions
In a small bowl, stir together the chopped dried pineapple and the lime juice. Set aside while you roast the chiles and garlic.
In a small ungreased skillet over medium heat, roast the chiles and garlic, turning regularly, until they are soft and blotchy brown, about 10 minutes for the chiles, 15 minutes for the garlic. Cool until handleable, then pull the stem(s) off the chile(s) and roughly chop. Peel the skin off the garlic. Scoop into a food processor and pulse until quite finely chopped.
Add the tomatoes with their juice. Re-cover and pulse until you have a coarse puree. Scrape into a serving dish. Stir in the black olives, cilantro and the fruit (plus any liquid). If necessary, add a little water to give the salsa an easily spoonable consistency. Taste and season with salt, usually about 1/2 teaspoon. You're ready to serve.