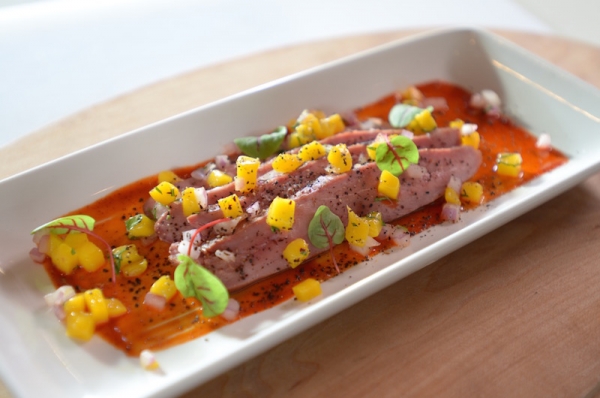 Ingredients
3

tablespoons

salt, plus for more for the salsa

1/4

teaspoon

pink curing salt (available in well-stocked grocery stores or online)

4

boneless, skinless

duck breasts (about 4 to 5 ounces each)

Generous 1/2

cup

black garlic cloves (divided use) (available available in well-stocked grocery stores or online)

Vegetable oil, olive oil or duck fat

For the Mango Salsa

1

tablespoon

fresh lime juice

1

tablespoon

orange juice

1

small

red onion, sliced thin

1

fresh habanero chile,

stems and seeds removed and finely diced

2

cups (about 12 ounces)

cubed mango (we love the Honey Manila mangos that come from Mexico)

1/3

cup

chopped cilantro, plus more whole leaves for garnish
Instructions
In a small bowl, combine 2 tablespoons of salt and the pink curing salt and rub over the duck breasts. Cover and place in the refrigerator to cure, about 6 to 8 hours. Rinse away the salt from the breasts and place each in a sealable plastic bag along with 1 black garlic clove. Seal up the bag, taking care to remove as much air as possible.
Preheat an oven to its lowest setting (usually between 160 and 200 degrees). On a small sheet tray lined with parchment paper, lay out the remaining black garlic cloves so they aren't touching. Bake until they are dry and crisp, about an hour. Transfer to a spice grinder and pulverize to a fine powder.
Fill the insert of a slow cooker about half way with water and let it warm for about 1 hour on the low setting. Add the bags containing the duck breast. Cook for 40 minutes on low, flipping the bags over half way through cooking.
Remove the duck breasts from the bag and place on a paper towel-lined plate at room temperature.
In a medium-sized bowl, combine the citrus, onion, diced mango and chile. Season with salt, usually about about 1/2 teaspoon. If you like it a little sweeter, add about 1/2 teaspoon sugar.
Heat a large (12-inch) skillet over medium high and film with oil or duck fat. When hot, add the duck breasts and sear, about two minutes per side.
To serve, place the duck breasts on a large serving platter, sprinkle with the black garlic powder and garnish with mango salsa and cilantro.