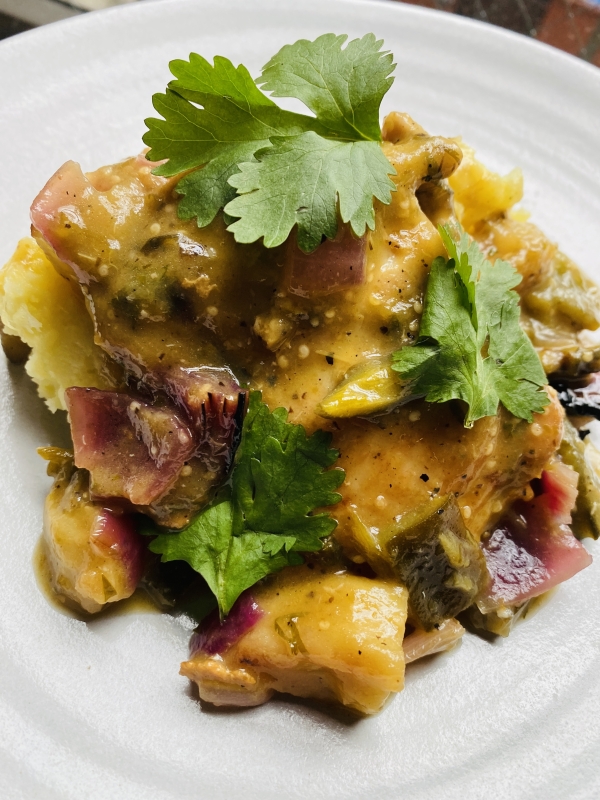 Ingredients
1

pound (6 to 8 medium)

tomatillos, husked and rinsed

4

large

unpeeled garlic cloves

2

poblano chiles, cut in half lengthwise, seeds and stems removed

1

large (8-ounce)

red onion, sliced crosswise (in the direction of the equator) into ½-inch-thick rounds

2

medium (about 1 pound total)

crisp apples (I prefer ones like Honey Crisp that won't fall apart when cooked), peeled, quartered, cored and sliced ½ inch thick

1 1/2

pounds (1 very large or two small)

pork tenderloin OR 1 ½ pounds boneless, skinless chicken thighs

A

couple tablespoons

of vegetable oil, olive oil, bacon drippings or fresh-rendered pork lard

Salt

1

cup

chicken broth or water

A

tablespoon or two

of chopped fresh herb leaves (anything from cilantro or epazote to sage or basil), plus more for garnish

A

little

sugar
Instructions
Roast the vegetables and apples.  Heat a broiler and adjust the shelf to its highest level. On a rimmed baking sheet, spread out the tomatillos, unpeeled garlic, poblano halves (skin-side up), red onion rounds and apple pieces.  (For easy clean up, you may want to line your baking sheet with foil.) Roast on the highest shelf for about 6 minutes, until most everything is getting blotchy black and beginning to soften.  Remove the pan and flip over the tomatillos, garlic, onion and apples (leave the poblano skin-side up).  Slide the pan back in and roast everything on the second side—the garlic and onion will take a few more minutes to become completely soft and browned, the tomatillos, poblano and apples will take another 6 to 8 minutes or so. 
Finish the vegetables and apples.  Cool everything until handleable, then peel the garlic and scoop into a blender jar along with the tomatillos.  Blend until smooth.  Pull the skin off the poblanos and chop into ½-inch pieces.  Chop the apples and onion into ½-inch pieces.  
Brown the meat.  In a very large (12-inch skillet), heat the oil, drippings or lard over medium-high.  Pat the pork or chicken dry with paper towels and sprinkle generously with salt on all sides.  Lay into the hot oil in an uncrowded single layer. Cook undisturbed until richly browned, then flip and brown the other side, 5 to 10 minutes total. Remove to a plate or rack set over a baking sheet.  
Finish the dish.   Add the tomatillo puree to the skillet and cook, stirring constantly, until reduced and thick, about 4 minutes.  Stir in the broth or water, the herb, poblano, onion and apple.  When the mixture comes to a boil, nestle in the pork or chicken, reduce the heat to medium and partially cover the pan.  Simmer until the meat is cooked through, about 20 minutes (slightly less for chicken).
Serve.  When the meat is done, remove the pork to a cutting board; the chicken thighs can be divided directly onto warm dinner plates.  Bring the sauce to a boil and season with salt, usually about 1 teaspoon) and enough sugar to bring out the flavor of the apples, usually a couple of teaspoons.. Cut the pork into oval medallions and lay them on warm dinner plates, slightly over lapping.  Spoon the chunky sauce around the meat, decorate with herb leaves if you have them and you're ready to serve. 
To make this a vegetarian dish, once all the sauce ingredients are roasted, turn the oven to 450 degrees.  Brush or spray with olive or vegetable oil 4 big clumps of maitake mushrooms (each a little smaller than a softball).  Lay them on a baking sheet and roast until tender but with a crispy outside. Make the sauce as directed using water or vegetable broth.  Serve in deep plates with warm, crispy maitakes on top.