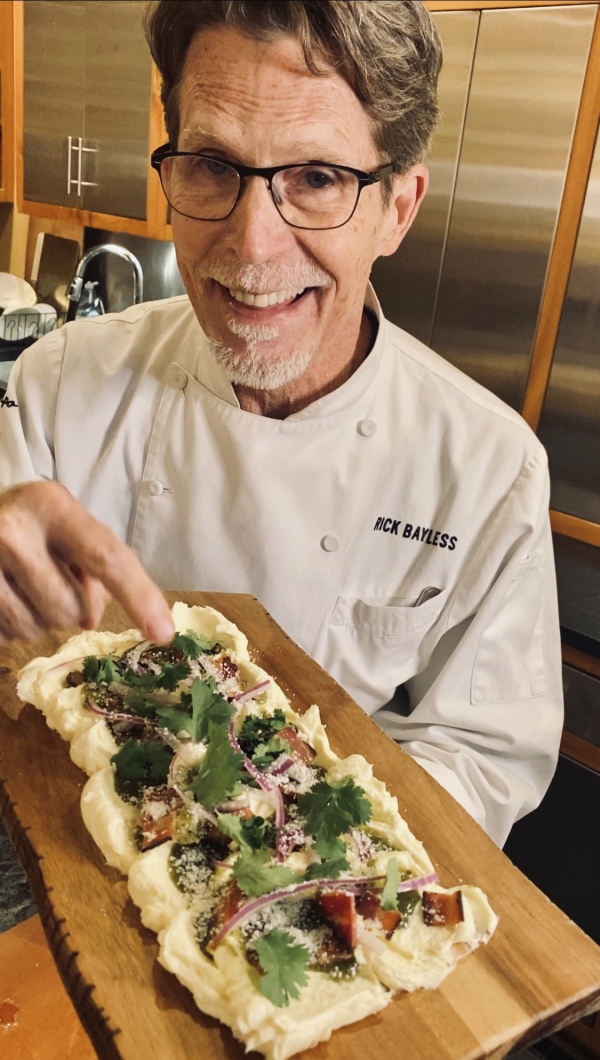 The first time I saw a butter board on social media, I was wowed by the idea.  Creamy butter topped with herbs, flavorings, bits of aromatic deliciousness, all scooped up with crusty artisan bread.  What's not to like? When I got into the kitchen, though, my butter board took a turn.  It became a butter-and-goat-cheese board and the toppings I was drawn to are ones from my favorite tacos.  Which, of course, led me to serve this errant butter board with warm tortillas (though you can feel free to serve it with chips or crusty bread).  I'm kind of obsessed. 
Ingredients
6

ounces

butter (I prefer salted butter here), at room temperature

6

ounces

fresh goat cheese, at room temperature

2

slices (about 2 ounces)

bacon, fried crisp and coarsely crumbled

About 1/3

cup

Salsa Verde

A

couple thin slices

of red onion

About 1

tablespoon

grated Mexican añejo cheese or other garnishing cheese like Parmesan or Romano

A

small

handful of cilantro leaves

12

(or more)

small, warm corn tortillas
Instructions
Beat the butter and goat cheese together until smooth (I used the paddle attachment of my mixer).  Dollop and spread it rustically over a serving board, leaving about an inch all around. (My board was about 13x7 inches.) Splash on the salsa, then scatter on the bacon, onion, añejo cheese and cilantro.  Serve with tortillas for scooping up this delicious mixture.