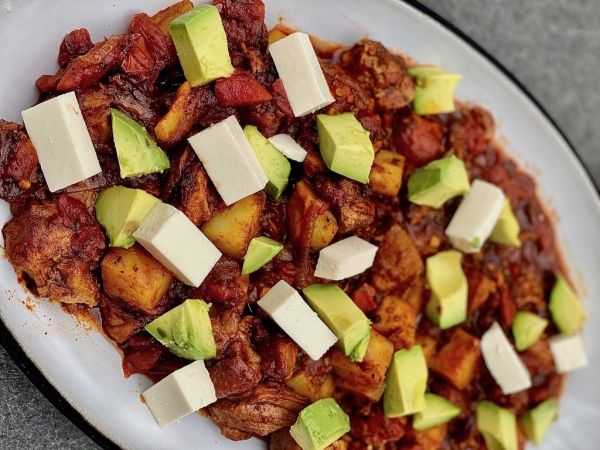 If you're using fresh tomatoes, spread them onto a rimmed baking sheet and roast them close up under a hot broiler until blistered and blackened on one side, about 6 minutes, then flip them over and roast the other side. Cool and slip off the blackened skins. Chop into ½-inch pieces, making sure to save all the juice (including what exuded onto the baking sheet).
Ingredients
1 1/2

pounds

boneless shoulder, trimmed of excess exterior fat and cut into 1 ½-inch pieces

A

little

dried thyme or marjoram, plus a couple of bay leaves

Salt

3

medium (about 12 ounces)

boiling potatoes like the red-skinned ones or Yukon Golds, cut into ½-inch pieces

2

tablespoons

fresh-rendered pork lard, bacon drippings or vegetable oil, plus a little more if needed

4

ounces (1/2 cup)

fresh Mexican chorizo sausage, casing removed

1

medium

onion, sliced ¼ inch thick

2

garlic

cloves, peeled and chopped

One

28-ounce can

diced fire-roasted tomatoes OR 2 pounds fresh, red-ripe tomatoes, roasted (see note above)

2 or 3

canned

chipotle chiles en adobo, seeded and sliced, plus a tablespoon or so of their canning liquid OR OR 4 or 5 pickled morita chiles, seeded if you wish and thinly sliced

1

teaspoon

dried oregano, preferably Mexican

1

ripe

avocado, cut in half, pit removed, flesh scooped from skin and cut into ½-inch cubes

About 4

ounces

Mexican queso fresco or other fresh garnishing cheese like dryish goat cheese, mild feta or pressed farmers cheese, broken or cut into about ½-inch pieces
Instructions
Cook the meat and potatoes.  In a medium (3-quart) saucepan, combine the pork, herbs and 1 teaspoon salt, cover with water by a scant inch, bring to a boil, then reduce the heat to medium-low and simmer, partially covered, until tender, about an hour. (You can use a pressure cooker—like an Instant Pot—to speed up this step: Just barely cover the meat and herbs with water, sprinkle on the salt and pressure cook on high for 30 minutes.) Strain, reserving a cup of broth and discarding the bay leaves. Lay out the meat on paper towels, break into smaller pieces (about ¾ inch) and pat dry.  Scoop the potatoes into a microwave-safe bowl, splash with about 2 tablespoons water, sprinkle with salt and microwave covered (poke several holes if using plastic wrap) for 3 minutes.  Drain. 
Browning: chorizo, meat, onions.   In a very large (12-inch) heavy skillet, heat the lard, bacon drippings or oil over medium.  Add the chorizo and cook, breaking up any clumps, until browned and cooked through, about 10 minutes.  Scoop out the chorizo, leaving behind as much fat as possible. (If there is very little fat in the pan, add another spoonful.) Add the dried off pork and the onions to the pan and cook, stirring regularly, until richly browned, about 10 minutes.  Stir in the garlic and cook for a minute.
The sauce.  Add the tomatoes to the pan, juice and all, along with the reserved broth, the chipotles and their canning liquid (or the pickled moritas) and the oregano. Raise the heat to medium-high and boil rapidly for a few minutes, stirring frequently, until the sauce starts to thicken.  Add the potatoes and cooked chorizo, reduce the heat to medium-low and simmer for about 10 minutes to blend the flavors.  Taste and season with salt, usually about ½ teaspoon, and more of the chipotle canning liquid if you think the sauce could use it.  Some cooks like to add a pinch of sugar to balance the natural acidity of the tomatoes.  
Serve.  Scoop portions of your tinga into wide bowls (pasta bowls work well here) and garnish with avocado and fresh cheese.