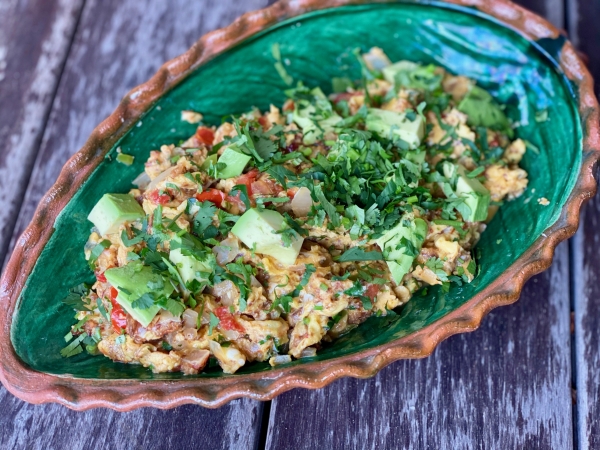 Many Mexican grocery stores sell carne seca, large pieces of dried beef (what we'd call jerky). Sometimes the meat will have been run through a jaccard machine to tenderize it, but it's not as nearly as tender as the jerky that's typically sold as snacks for a U.S. audience. The Mexican stuff is intended to be pounded or milled into a fluffy-looking ingredient that's called machaca, from the Spanish verb machacar, to pound or mash. In the arid north of Mexico, where dried beef is commonly on the menu, many cooks are used to wrestling planks of carne seca into user-friend machaca. North of the border, we are not, so I encourage you to buy the already-pounded/milled stuff from a Mexican grocery or on line. If, by chance, you get the pieces of carne seca (dried beef) from the Mexican grocery, here's how you reduce it to finely shredded machaca: Lay the dried beef on a baking sheet and slide it about 4 inches below a hot broiler. After a minute or so, it'll be sizzling and browning on the edges. Flip it and brown the other side. When it is cool, tear it into pieces no larger than 1 inch. Pound it in a mortar (the classic Mexican molcajete is perfect here, though I've used a big Thai granite mortar as well). Keep pounding until the carne seca has shredded to fluffy-looking machaca. Personally, I've never been able to get it quite as fine as the machaca I buy.
Servings:
4
1/2 cups, enough for 18 tacos
Ingredients
3

tablespoons

fresh-rendered pork lard or vegetable oil, plus a little more if needed

2

ounces (about 1 cup)

fluffy-looking machaca (pounded/milled dried beef)

1

small

onion, chopped into small pieces (1 cup)

Fresh

hot

green chiles to taste (roughly 1 to 2 serranos, 1 small to 1 large jalapeño), stemmed, seeded (if you wish) and finely chopped

1

medium

red-ripe tomato, cut into small pieces

8

eggs

beaten just enough to roughly combine the yolks and whites

Salt

About 1/2

cup

chopped cilantro

18

warm tortillas, flour or corn

2

avocado, pitted, scooped from the skin and cut into small pieces (optional)

Mexican hot sauce, like Tamazula or Valentina (optional)
Instructions
In a large (10-inch) skillet, preferably non-stick or seasoned cast iron, heat the lard or oil over medium.  Sprinkle the machaca evenly over the fat and stir nearly constantly as the mixture moves from a little foamy looking to toasty and aromatic, about 2 minutes.  Add the onion, green chile and tomato to the pan and stir frequently until the onion has softened and any juices from the tomato have evaporated, about 8 minutes.  Season the eggs with salt (less than you'd normally use because of the saltiness of the machaca, for me about ½ teaspoon), then add them to the pan along with half of the cilantro.  Stir slowly until the eggs are as scrambled as you'd like, then scoop into a serving dish and set out with hot tortillas, the remaining cilantro, avocado slices and optional hot sauce for everyone to make their own tacos.