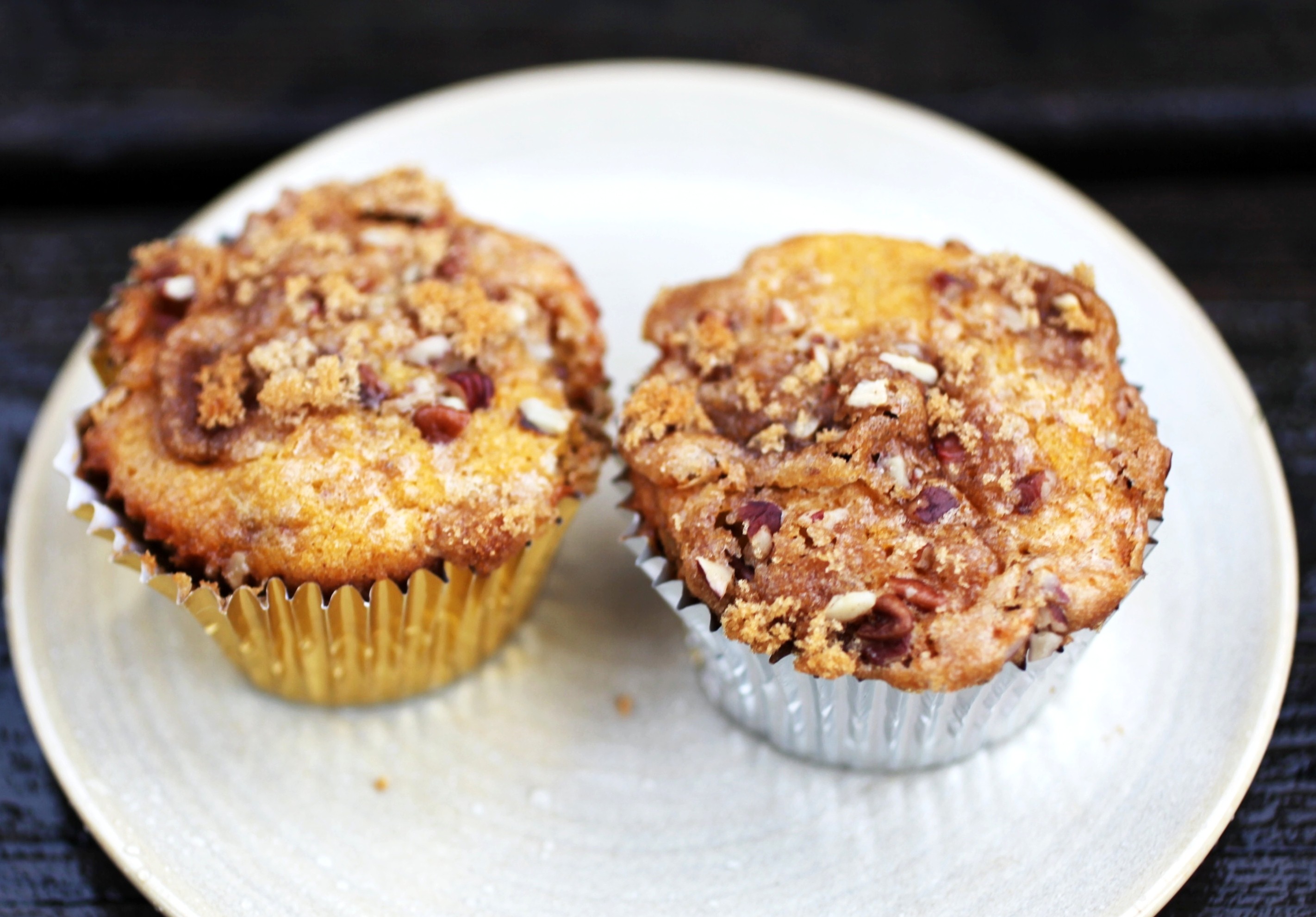 You shouldn't trust me when I say this (I'm prone to enthusiastic proclamations), but these are my favorite muffins in the world.  At least right here, right now.  It's fall as I'm writing these words, we've just picked the butternut from our garden, and, with these muffins in the oven, the house smells so amazing I can't imagine ever leaving.  Their texture is so moist, tender and surprisingly light (they stay moist for several days after baking).  And the nutty crunch of pecan is the perfect foil to their gentle sweetness.


Ingredients
1/2

small (2 pound)

butternut squash, peeled, seeded and cut into 1-inch chunks (about 3 cups of chunks)

1/3

cup

brown sugar

3/4

cup

toasted pecan pieces, divided use

2

tablespoons

sour cream

1 1/2

teaspoons

vanilla, preferably Mexican

2

eggs

1 1/2

cups

cake flour

3/4

cup

granulated sugar

1

teaspoon

ground cinnamon, preferably Mexican canela

1

teaspoon

baking soda

3/4

teaspoon

baking powder

1/2

teaspoon

salt

5

ounces (10 tablespoons)

unsalted butter, softened
Instructions
Turn on the oven to 300 degrees. Spray a standard-size (not jumbo) 12-cup muffin tin with non-stick spray and line each cup with a paper cupcake liner.
Scoop the butternut pieces into a microwave-safe bowl, cover with plastic wrap, poke a few holes in the top, and microwave on high for 10 minutes. Uncover the bowl and mash with the back of a large spoon until it's the consistency of loose mashed potatoes. Let cool completely.
In a small bowl, mix the brown sugar with ¼ cup of the pecans and set aside. Stir the sour cream and vanilla into the now-cool butternut, then whisk in the eggs, one at a time, until the mixture is smooth (though if you have a few lumps you can't get rid of, that's okay).
Pour the flour, granulated sugar, cinnamon, baking soda, baking powder and salt into the bowl of a stand mixer fitted with the paddle attachment—or, if you're using a hand mixer, into a large bowl—and mix on low speed for 30 seconds. Add the butter and mix until well blended, about 1 minute. Stop the mixer, add half of the squash mixture and beat on medium speed for 30 seconds. Stop the mixer, scrape down the sides of the bowl with a spatula, add the rest of the squash and beat on medium until you have a smooth batter, about 30 seconds more. Add the remaining ½ cup of the pecans and mix until just incorporated.
Divide the batter among the muffin cups (you'll use about 3 tablespoons per muffin) and top each with a rounded teaspoon of the brown sugar mixture. Bake, rotating the pan halfway through, for about 25 minutes, until the muffins spring back when gently pressed and a skewer inserted into their middle comes out almost clean (a few crumbs attached is fine). Cool in the pan on a cooling rack for 20 minutes before unmolding.