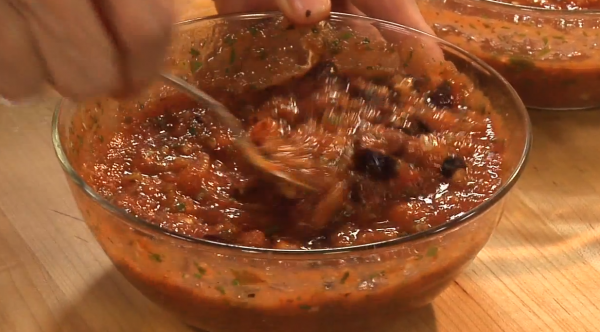 Recipe from Season 7, Mexico—One Plate at a Time
Ingredients
1

pound (6 to 8 medium)

tomatillos,

husked and rinsed

1/3 to 1/2

ounce (3 to 5)

dried red chipotle chiles (aka moritas), stemmed

1

small

white onion, sliced 1/4-inch thick

4

garlic cloves, peeled

Salt

About 1

teaspoon

sugar (optional)
Instructions
Roast the tomatillos on a rimmed baking sheet about 4 inches below a very hot broiler until soft and blackened in spots, about 5 minutes per side. Cool, then scrape into a blender jar.
Meanwhile, heat a small (6-inch) ungreased skillet over medium, toast the chipotle, stirring until very aromatic, about a minute. Scoop into a small bowl, cover with hot tap water and soak for about 30 minutes, stirring from time to time to ensure even rehydration.
Turn the oven down to 425 degrees. Spread the onion and garlic on another baking sheet, slide into the oven and roast for about 15 minutes, stirring every few minutes until the onions are golden—they'll look a little wilted with a touch of char on some of the edges. The garlic should feel soft and be browned in spots. Cool.
Drain the chiles and scrape them into the blender jar along with the tomatillos and 3/4 cup water. Pick out the garlic from the onions and add it to the blender. (If all this is too much for your blender, blend in 2 batches.) Blend until nearly smooth. Roughly chop the onion, add it to the blender and pulse a few times until you've got as chunky (or smooth) a salsa as you like. Stir in enough additional water to give the salsa an easily spoonable consistency. Taste and season with salt, usually about 1 teaspoon, and the optional sugar.