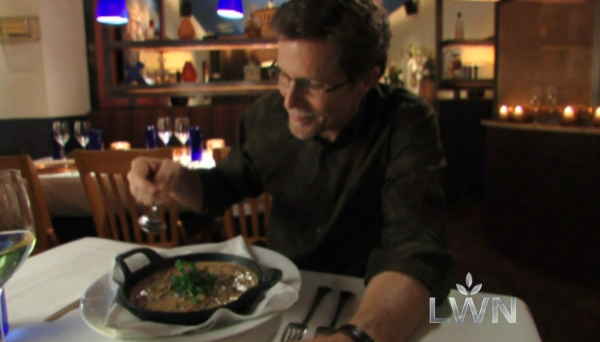 At Tino's in Pitillal or Nuevo Vallarta, they season these oysters with a little chicken bouillon (the famous Knorr Suisa that weaves its way into so many dishes around the world). Though it adds a little extra richness, I think the flavor of the oysters comes through better without it. And without the little crusting of melted cheese that the Tino's chefs add. When I make this in Chicago, I love to weave in a little chopped garlic chive or epazote from my garden.
Ingredients
2 1/2

cups (about 1 1/4 pounds)

shucked oysters

2

tablespoons

butter

1

medium white onion, chopped into 1/4 inch pieces

1

very large

tomato,

cored and chopped into 1/4 inch pieces

Fresh Hot Green Chiles to Taste

(usually 2 serranos or 1 jalapeno), stemmed, seeded (if you wish) and finely chopped

1/3

cup

white wine

1

tablespoon

soy sauce

1/2

cup

Mexican crema,

créme fraiche or whipping cream

2

tablespoons

finely chopped parsley, plus a little extra for garnish

Salt
Instructions
Pour the oysters into a colander set over a bowl. Let drain while preparing the flavorings.
In a very large (12-inch) skillet, melt the butter of medium-high. Add the onion, tomato and serrano, and cook, stirring frequently, until the onion is translucent and the juice from the tomatoes has evaporated, about 5 minutes.
Add the white wine, soy, crema (or its substitute), parsley and 1⁄2 cup juice drained from the oysters. Cook until as thick as a light cream soup, about 5 to 6 minutes. Add the oysters, reduce the heat to medium and cook, stirring frequently, until the oysters are just barely cooked, about 3 minutes. Stir in the cheese, taste and season with salt, usually about a scant 1⁄2 teaspoon.
Spoon into warm dishes and serve right away with a sprinkling of parsley.