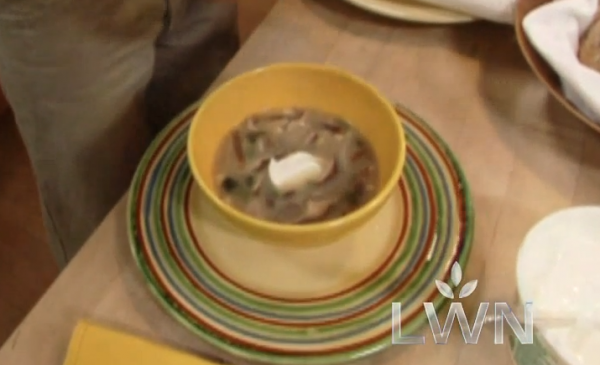 This soup shows off the natural affinity between earthy mushrooms and earthy potatoes.  Too much of a good thing can, sometimes, lead to lost luster, which is why I like the deep-green spice of roasted poblanos in this soup.  And the aromatic flecks of cilantro.  And, of course, the sweet bits of corn.  If I want to gild this beautiful lily, I'll cook a small handful of chopped bacon until crisp and add it to the soup just before serving.
Servings:
4
Makes a generous 6 cups
Ingredients
4

medium (about 1 pound total)

red-skin boiling or Yukon Gold potatoes, cut into roughly 1-inch pieces

3

garlic cloves, peeled and halved

6

cups

chicken or vegetable broth

1

large

fresh poblano chile

8

ounces

mushrooms (I like shiitake or oyster mushrooms), sliced 1/4-inch thick (you'll have about 3 cups of slices)

1

scant cup

corn kernels (they can be frozen or ones you've cut of one to two large ears)

1

large sprig

epazote

(you can substitute a big sprig of fresh thyme, or leave it out all together)

1/4

cup

plain yogurt, heave cream or sour cream

Salt

About 1/4

cup

roughly chopped cilantro, for garnish
Instructions
Scoop the potatoes and garlic into a medium (3-quart) saucepan, pour in half of the broth and set over high heat. When the liquid boils, reduce the heat to medium and simmer briskly until the potatoes are tender, about 15 minutes.
While the potatoes are cooking, roast the poblano over an open flame or 4 inches below a broiler, turning regularly until blistered and blackened all over, about 5 minutes for an open flame, about 10 minutes for a broiler. Cover with a kitchen towel. Let cool until handleable. Rub the blackened skin off the chiles and pull out the stem and seed pod. Rinse the chile flesh to remove bits of skin and seeds. Cut into 1⁄4-inch pieces.
When the potatoes are tender, use an immersion blender to puree the soup base (or blending in several batches in a food processor or loosely covered blender draped with a kitchen towel and return to the pan). Add the remaining half of the broth, the mushrooms, poblano, corn and epazote (or thyme, if using). Simmer 10 minutes over medium heat.
Just before serving, scoop out about 1⁄2 cup of the hot soup into a small bowl. Mix in the yogurt, cream or sour cream. Stir the mixture back into the pot, then taste and season with salt, usually about 1 1⁄2 teaspoons. Ladle the soup into bowls and sprinkle with cilantro. Soup's on.
Riffs on the Potato-Mushroom Soup Theme: Though my version of this soup is vegetarian when made with vegetable broth, it doesn't have to be. Ham, ham hocks, bacon and chorizo are all wonderful in this soup—start with about 4 ounces. As is crab. The corn can be easily replaced by other vegetables that offer a contrast in taste and texture: small fresh fava beans (my favorite), peas, 1-inch lengths of green beans. Use about the same volume measure. And I love this soup made with half potatoes and half parsnips or young turnips, or rutabaga.
For the Adventurer: Use bacon drippings to sauté a heaping cup of cubed cleaned nopal cactus pieces until all their liquid has evaporated; add them, with the bacon, just before serving.