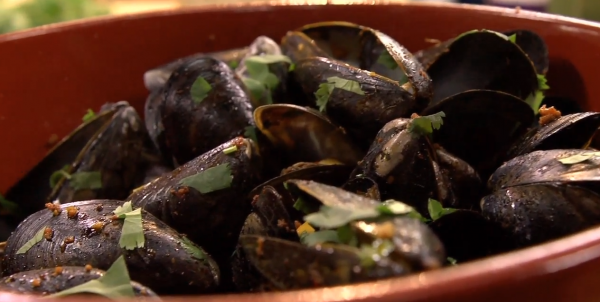 From Season 8, Mexico—One Plate at a Time
Servings:
4
to 6 as an appetizer
Ingredients
A couple

ounces

dried chiles (see note) stemmed and seeded

4

ounces (1/2 cup)

fresh Mexican chorizo sausage

2

garlic cloves, peeled and finely chopped

2/3

cup

white wine

Salt

2

pounds

very fresh, tightly closed mussels, scrubbed and beards removed

2

tablespoons

butter

Several

tablespoons

chopped fresh cilantro
Instructions
Make the coarse chile "powder." Heat the oven to 325 degrees. Spread the stemmed, seeded chiles on a baking sheet, slide into the oven and bake until toasty smelling, nearly crisp, even a little browned, 5 to 8 minutes depending on the fresh moistness of the chiles. Cool—they should completely crisp as they come to room temperature. In small batches in an electric spice mill, coffee grinder or mortar, coarsely crush the chiles—you'll get a mix of powder, confetti-size pieces and everything in between.
Cook and serve the mussels. In an 8-quart pot with tight-fitting lid, cook the chorizo over medium heat until it is thoroughly cooked and browned--10 minutes or longer depending on how moist your chorizo is. Add the garlic and stir one minute more. Raise the temperature to high and add 1 to 2 tablespoons of your "powdered" chile, the wine, 1/2 teaspoon salt and mussels. Cover tightly and cook until the mussels have opened, 2 or 3 minutes (discard any that haven't opened). Use tongs or a slotted spoon to transfer the mussels to a serving bowl, leaving the pot on high heat. Add the butter to the pot and boil until it has become thoroughly incorporated. Taste, season with additional salt if you think necessary, stir in the cilantro and spoon over the mussels. Sprinkle with a little more chile if you like and serve with bread to soak up the delicious juices.
NOTE: the character of this dish comes from the addition of homemade coarse ground chile "powder." Though it can be made from a single dried chile, the flavor is richer and more complex when it includes several varieties; my chef-friend Benito Molina in Ensenada uses at least 6. Though you'll only use a tablespoon or two of your homemade mix, I encourage you to make a small jar full so that it's ready for sprinkling on grilled meat or into soups. My favorite combination includes the following dried chiles: ancho, pasilla negro, guajillo and chipotle, plus a few arbol, pequín or chiltepín for spice.