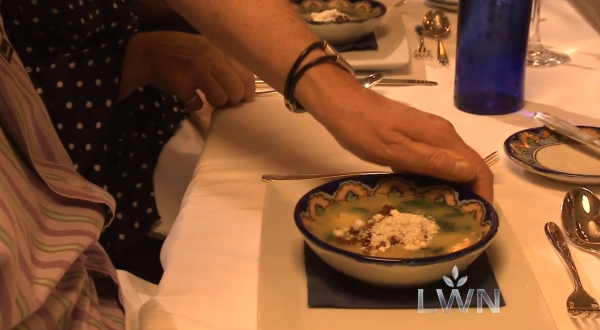 Recipe from Season 6, Mexico—One Plate at a Time
Servings:
6
as a first course
Ingredients
6

medium (about 1 1/2 pounds total)

red-skin boiling or Yukon Gold potatoes

4

garlic cloves, peeled and roughly chopped

1 1/2

quarts

chicken broth

3 or 4

large (8 ounces total)

hot Hungarian Wax (aka banana, yellow, xkatic, güero) chiles

8

ounces (about 1 cup)

Mexican chorizo sausage,

casing removed

8

cups

stemmed, sliced greens (choose spinach, chard, amaranth or lambs quarters)—1/2-inch slices are good, cut in half if long

Salt

Abut 1/4

cup

grated Mexican queso anejo

or other garnishing cheese like Romano or Parmesan

About 1/4

cup

chopped fresh cilantro
Instructions
Cut 2/3 (4) of the potatoes into roughly 4 pieces each and scoop them into a medium (3-quart) saucepan, along with the garlic. Chop the remaining 1/3 (2) of the potatoes into 1/4-inch cubes and set aside. Pour half of the broth into the saucepan and set it over high heat. When the liquid boils, reduce the heat to medium and simmer briskly until the potatoes are tender, about 15 minutes.
While the potatoes are cooking, roast the chiles over an open flame or 4 inches below a broiler, turning regularly until blistered and blackened all over, about 5 minutes for an open flame, 10 minutes for a broiler. Cover with a kitchen towel. Let cool until handleable. Cut the top off the chiles, slit the side from seed pod to point, open out flat and scrape out the seeds; discard. Flip over and scrape the skin off the flesh; discard. Chop the flesh into smallish pieces.
When the potatoes are tender, use an immersion blender to coarsely puree the soup base (or coarsely process in several batches in a food processor or a loosely covered blender draped with a kitchen towel, then return to the pan). Add the remaining half of the broth, the reserved cubed potatoes and the chile pieces. Simmer 10 minutes.
Meanwhile, fry the chorizo in a large skillet over medium heat, breaking up any lumps, until thoroughly cooked and well browned, about 12 minutes. Scoop onto a plate lined with paper towels to drain.
Just before serving, stir the greens into the soup and let simmer until they are tender—2 to 4 minutes (tougher greens like amaranth and lambs quarters will take longer to cook than chard which take longer than spinach).
Taste and season the soup with salt, usually about 1 1/2 teaspoons depending on the saltiness of your broth. Ladle into warm soup bowls, then sprinkle with a portion of the chorizo, cheese and cilantro. Serve right away.