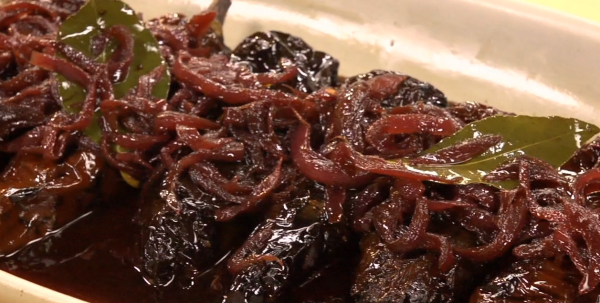 From Season 8, Mexico—One Plate at a Time
Servings:
6
as a first course or light main dish
Ingredients
1/2

cup

olive oil

1

large

red onion, sliced 1/4 inch thick

1

small cone (about 1 ounce)

piloncillo (Mexican unrefined sugar) OR 2 tablespoons dark brown sugar

2/3

cup

red wine vinegar

1

cup

red wine

Herbs

(a few sprigs of fresh thyme and/or marjoram, a few bay leaves)

Salt

6

good sized fresh-and-supple

ancho chiles

6

garlic cloves, unpeeled

2

cups (1 pound)

dry (AKA hand-dipped, Italian- or Mexican-style) ricotta

1/2

cup

(loosely packed) chopped fresh cilantro, plus leaves or sprigs for serving

about 1/8

tsp

Freshly ground black pepper
Instructions
Prepare the escabeche. In a large (10-inch) skillet, heat the the olive oil over medium-high. Add the onion and cook, stirring regularly, until beginning to brown but not too soft, about 5 minutes. Add the piloncillo (or brown sugar), vinegar, red wine, herbs and 1 teaspoon salt. Simmer over medium-low for 15 – 20 minutes, then remove from the heat.
Prepare the chiles. Use a small knife to cut a slit in each chile from stem end to point. Carefully (so as not to rip the chile) remove the seeds with knife or fingers. On a ungreased skillet or griddle heated over medium, toast the chiles one or two at a time, pressing them against the hot surface with a metal spatula for a few seconds, then flipping them and pressing the other side. They will not change color—just fill the kitchen with their roasted chile aroma. Place the toasted chiles in a baking dish and cover with the escabeche. Weight them with a plate to keep them submerged. After the chiles have rehydrated for 30 minutes, carefully remove them from the escabeche and lay on a plate. Pat them inside and out with paper towels. Set aside the escabeche for serving.
Prepare the filling. While the chiles are soaking, roast the unpeeled garlic in the skillet (or on the griddle) over medium heat, turning regularly until it is softened and blotchy-black, about 15 minutes. Cool, peel and, in a medium bowl, mash to a coarse puree with a fork. Mix in the ricotta, cilantro and black pepper. Taste and season with salt, usually about 1/2 teaspoon. Fill each chile with a portion of the ricotta mixture and lay on a deep platter, seam-side down. Spoon the escabeche over the top, decorate with cilantro and the dish is ready.