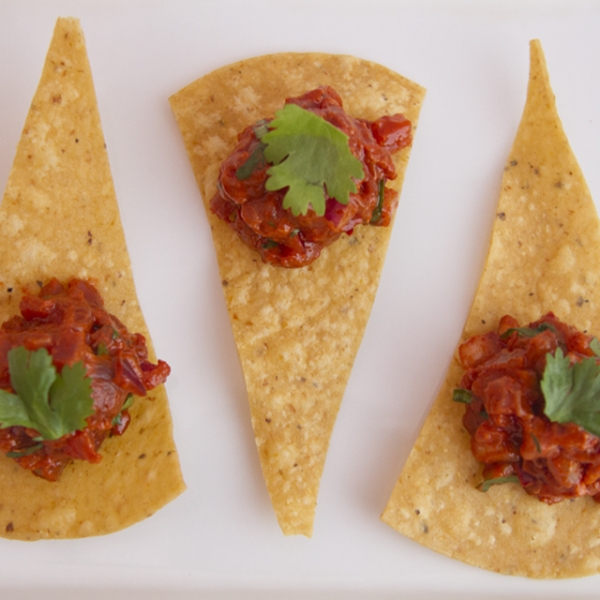 When I want something to start off a party for foodie friends—a dish that's both up-to-the-minute and very traditionally Mexican tasting—I often gravitate to this rustic red chile-infused tuna tartare. Many of the well-stocked supermarkets now carry sashimi-quality tuna in the freezer case, which I defrost in the refrigerator overnight to retain its tender, meaty texture. Dressing that essence of freshness with a lime-brightened blend of red guajillo chile and roasted garlic offers yin-yang in every bite. Your tartare can be piled on tortilla chips or small tortillas (or on grilled bread, bruschetta style) to pass among guests. Or it can be served in glass bowls or martini glasses—I usually add a little chopped, peeled jícama to round it out. For a restaurant-style, first-course presentation (with or without jícama), form little "cakes" of tartare on plates (a biscuit cutter makes a good mold) and serve with a little salad of baby greens and grilled bread or warm tortillas.
Servings:
2
1/2 cups, enough for 6 to 8 as a starter
Ingredients
1

pound

"sashimi-quality" fresh tuna fillet—best if it is 1-inch-thick pieces

6

cloves

garlic, unpeeled

6 (about 1 1/2)

ounces

dried guajillo chiles,

stemmed, seeded and torn into flat pieces

1/2

cup

fresh lime juice

Salt

1/3

cup

loosely packed coarsely chopped fresh cilantro, plus leaves for garnish

1/2

small red onion, cut into ¼-inch pieces
Instructions
Wrap the tuna in plastic wrap and place in the freezer for an hour or so to firm for easier cutting.
Place a large skillet over medium heat and scatter the garlic on one side.  When the pan is hot, toast the chiles one by one:  use a metal spatula to press the pieces flat against the hot surface until they blister and release their aroma, about 10 seconds per side.  (When properly toasted, the inside of each chile piece will have lightened in color, but not developed any dark spots.)  Transfer to a bowl, cover with hot tap water and weight with a plate to keep submerged.  Meanwhile, turn the garlic occasionally until it is completely softened (it will blacken in spots)—it will take 10 to 15 minutes. Cool until handleable, then peel.
  When the chiles have soaked 30 minutes, drain and place in a blender jar with the garlic and lime juice.  Blend to a smooth puree, adding a little water if necessary to keep everything moving through the blades.  Press through a medium-mesh strainer into a bowl.  Season with salt, usually about 1 teaspoon. Refrigerate until you're ready to serve.
 With a sharp knife, cut the tuna into small dice—I like ¼-inch cubes—and scoop into a bowl. When you're ready to serve, scoop the onion into a strainer, rinse under cold water, shake off the excess and add to the tuna. Mix in the red-chile seasoning and chopped cilantro. Serve—whether on a crispy base like a chip, molded on a plate or in a small bowl or glass—decorated with cilantro leaves.