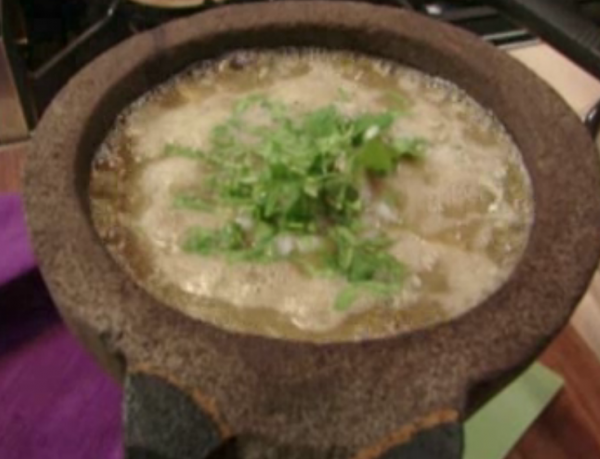 Panela is a Mexican fresh cheese that has a light (some would say "spongy") texture and a milky-sweet flavor with just enough salt to make it interesting.  Panela doesn't melt; it just softens a little when heated.  Mexican queso fresco is a fine substitute, though it's texture is more compact.

Recipe from Season 4, Mexico—One Plate at a Time
Ingredients
2

garlic cloves, peeled

1/2

pound (about 4 medium)

tomatillos, husked, rinsed and cut in half around the equator

hot green chiles to taste

(roughly 1 serrano or 1 small jalapeno), stems broken off, roughly chopped

Salt

8

ounces

panela cheese, cut into 3/4 inch cubes—you'll have 2 loosely packed cups

1/4

cup

white onion, finely chopped

about 1/4

cup

(loosely packed) chopped fresh cilantro
Instructions
Set a small non-stick skillet over medium-high heat (if no non-stick skillet is available, lay in a piece of foil). Lay in the garlic and tomatillos (cut side down). When the tomatillos are well browned, 3 or 4 minutes, turn everything over and brown the other side (The tomatillos should be completely soft.)
Scoop the tomatillos and garlic into a blender or food processor, and let cool to room temperature, about 3 minutes. Add the chile and 1/2 cup water. Blend to a smooth puree. Taste and season with salt, usually a generous 1⁄2 teaspoon.
Pour the salsa into a medium (3-quart) saucepan and bring to a simmer over medium heat. Add the cheese. When the cheese is heated through, about 2 to 3 minutes, pour the mixture into a warm serving dish—in Mexico, they often use a super-charged stone mortar (molcajete) that's been heated for about 45 minutes to an hour in a 400-degreen oven.
Scoop the chopped onion into a strainer and rinse under cold water. Sprinkle over the dish, along with the chopped cilantro. Serve right away.