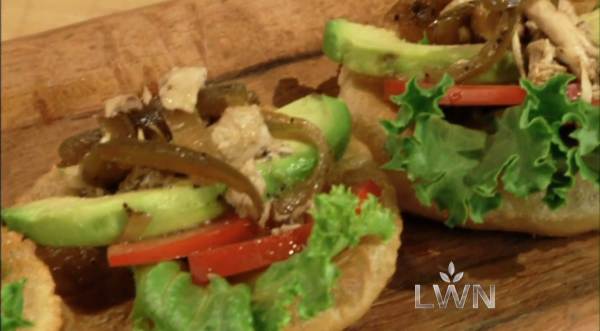 Recipe from Season 5, Mexico—One Plate at a Time
Servings:
12
salbutes, enough for 4 as a light main course, 6 as an appetizer
Ingredients
Corn Masa Cakes

3/4

pound

fresh masa OR1 1/4 cups powdered masa harina for tortillas mixed with a generous 3/4 cup hot tap water

1/4

cup

all-purpose flour (1/3 cup if using masa harina)

1/2

teaspoon

Salt

1/4

teaspoon

baking powder

Toppings

2

large

leaves of green leaf lettuce, each torn into 6 pieces

12

thin slices cucumber or tomato

1

large

peeled, pitted and cut into slices

About 2

cups shredded

Chicken in Escabeche

Vegetable oil to the depth of 3/4-inch
Instructions
If you are using the masa harina, mix it with the water, cover and let stand for 1/2 hour to reconstitute. Mix the flour, salt and baking powder with fresh or reconstituted masa, then adjust the consistency of the dough, if necessary, to make it soft (like cookie dough) but not sticky. Cover and set aside.
Set out the toppings at easy reach: the pieces of leaf lettuce, the slices of cucumber or tomato, the avocado and the chicken in escabeche.
Heat the oil to 375 degrees. Divide the dough into 12 pieces and roll into balls; cover with plastic to keep from drying out. Line a tortilla press with 2 pieces of plastic cut to fit the plates (to be on the safe side, cut them from a food storage bag). With the tortilla press, gently press out a ball of dough between the sheets of plastic to a 4-inch disk. Peel of the top sheet of plastic, flip the salbute uncovered side down onto the fingers of one hand and gently peel of the second piece of plastic. Slide the salbute into the heated oil and fry for 30 to 45 seconds per side until lightly browned, puffy but not crisp. As the salbutes are fried, drain them on paper towels (patting them with additional towels, if necessary, to absorb any excess oil); keep warm in a low oven.
When all of the salbutes have been fried, place them on a warm serving platter. Top with pieces of lettuce leaf, cucumber or tomato slices, portions of chicken and avocado slices. Serve at once to your guests, who may wish to eat them with a knife and fork or fold them up, taco-style, and eat them with their fingers.
Order some of the best Masa Harina you can find from our friends at Masienda: https://masienda.com/collections/all/masa-harina