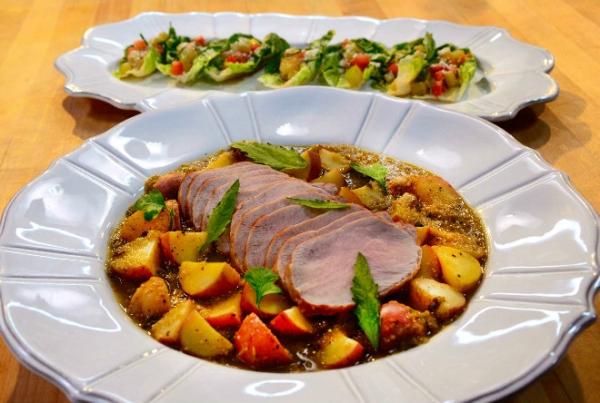 Ingredients
1

large

fresh poblano chile

4

garlic cloves, unpeeled

1

pound (6 to 8 medium)

tomatillos,

husked and rinsed

1

small

white onion, sliced ½ inch thick

Salt

1 1/2

pounds (about 10)

small red- or white-skin boiling potatoes (I like ones that are about 1 inch across; if they're larger I cut them in halves or quarters)

1

cup

chicken broth, pork broth, vegetable broth or water

1

sprig

fresh epazote,

Vegetable oil, olive oil, bacon drippings or fresh-rendered lard

1 1/2 pounds

well-trimmed pork loin roast OR 1 ½ pounds well-trimmed pork shoulder cut into 2-inch cubes (often labeled "pork for stew" in the meat case)
Instructions
Spread the poblano, garlic, serrano, tomatillos and onion on a rimmed baking sheet and slide it under a preheated broiler as close to the broiler as possible to roast the vegetables. After 4 or 5 minutes, when the vegetables are blotchy-black and softening, turn them and roast the other side.  Remove the poblano to a bowl and cover with a kitchen towel.  When it has cooled enough to handle, rub off the charred skin, remove the seedpod and rinse briefly under cool water.  Allow the other vegetables to cool.
Slip the skins off the garlic and pull the stem off the serrano (no need to remove the seeds). Scoop them into a blender along with the tomatillos (and any juice on the baking sheet), onion and a scant teaspoon salt.  Process to a coarse puree.
In a microwavable bowl, sprinkle the potatoes with a tablespoon of water, cover with plastic, poke a few holes in the top and microwave at 100% for 4 minutes.
Heat the oven to 325 degrees.  In a medium (4-quart) heavy pot (preferably a Dutch oven) set over medium-high, heat enough oil (or one of its stand-ins) to coat the bottom. When the oil is hot, dry off the meat with paper towels, sprinkle it generously with salt and lay it in the pan (lay the cubed shoulder in an uncrowded layer).  Brown on all sides (this takes 5 to 10 minutes) then remove the meat to a plate and add the tomatillo mixture to the pan.  Let it reduce and concentrate, stirring frequently, for about 4 minutes. Then roughly chop the poblano and add it to the pot along with the potatoes. Finally, stir in the broth (or water) and epazote.
Return the meat to the pot, cover and slide it into the oven.  When the pork loin reaches 145 degrees on an instant-read thermometer (about 30 minutes), remove the meat to a plate, loosely cover with foil and let it rest for 10 minutes to reabsorb the juices. When ready to serve, reheat the sauce over medium, taste and season it with salt (usually about 1 teaspoon).  Slice the meat, lay the slices overlapping on 4 warm deep dinner plates, then spoon the sauce and potatoes over and around it. If using cubed pork shoulder, braise until tender (that takes about 1 hour), season the sauce with salt, then spoon the delicious mixture into deep plates. Either one benefits from a fresh garnish of cilantro leaves.