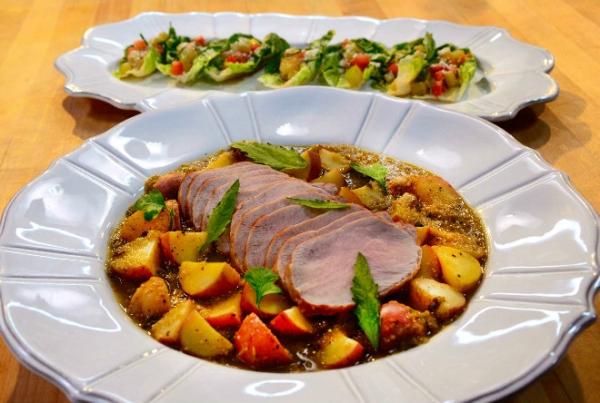 Ingredients
4

garlic cloves, unpeeled

Fresh hot green chile to taste

(I like 2 serranos or 1 jalapeño), stemmed

3

medium (about 1 1/2 pounds total)

chayote

Salt

3/4

cup

vegetable oil, olive oil or a mixture of the two

1/4

cup

balsamic vinegar

1

large (10 oz)

tomato, cored and cut into ¼-inch pieces

2

green onions, roots and wilted outer leaves removed, cut crosswise into ¼-inch pieces

Little Gem lettuce or inner romaine leaves, for serving

Mexican queso añejo,

for serving
Instructions
Roast the garlic and chile in a small dry skillet over medium, turning frequently until soft and browned in spots, about 15 minutes for the garlic, 10 minutes for the chile.  Set aside to cool.
While the garlic and chile are cooking, peel the chayote if you wish (the skin is so tender that peeling is entirely optional). Cut in half lengthwise and pry out the pit. Cut the chayote into ½ inch pieces.  Scoop into a microwaveable bowl and  sprinkle with a generous ½ teaspoon salt.   Cover tightly with plastic wrap, poke a couple of holes in the top and microwave at 100% until crisp-tender, usually about 5 minutes.  Uncover and cool.
While the chayote is cooking, slip the skins off the garlic. In a blender jar, combine the garlic, chile, oil, vinegar and 1 scant teaspoon salt.  Blend until smooth.  Pour into a jar and secure the lid.
Tip off any liquid that has collected at the bottom of the cooled chayote. Add the tomato and green onion.  Shake the dressing well, then drizzle on about 1/3 cup.  (Cover the remaining dressing and refrigerate for another salad.)  Toss to coat well.  The flavors are best if you let the mixture stand a few minutes, tossing regularly.  Taste and season with extra salt it appropriate.  Spread out lettuce leaves on a long narrow serving plate.  Spoon the chayote mixture into the leaves and garnish with queso aňejo.