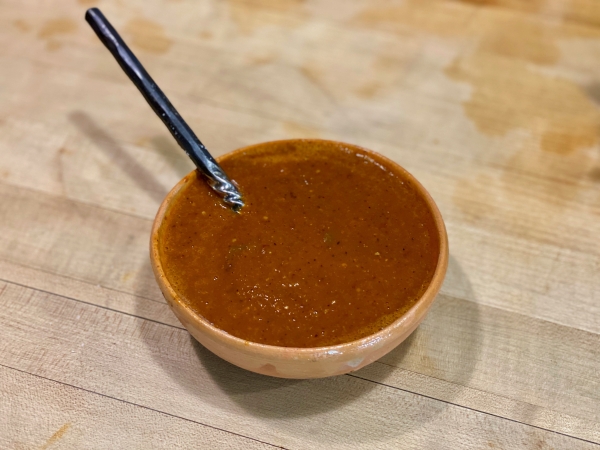 From Season 9, Mexico—One Plate at a Time
Ingredients
1 to 2

Oaxacan pasilla chile,

stemmed

8 ounces

(about 4 medium)

tomatillos, husked, rinsed and cut in half along the equator

3

garlic cloves, peeled

Salt
Instructions
Place the Oaxacan pasillas in a small bowl and cover with very hot tap water.  Soak for 20 minutes to soften.  Remove the chile(s) from the water, tear open and scrape out and discard the seeds.  Tear the chile(s) into several smaller pieces and put in a blender jar along with 1/3 cup of their soaking liquid.  
Set a large (10-inch) nonstick skillet over medium to medium-high heat (if you don't have a non-stick skillet, lay in a piece of foil for easy clean up).  Lay in the garlic and tomatillos (cut-side down).  When the tomatillos are well browned, 3 or 4 minutes, flip everything over and brown the other side.  (The tomatillos should be completely soft.)
Scoop the garlic in with chiles and blend until smooth.  Add the tomatillos and blend to a coarse puree.  Pour into a salsa dish and stir in a little more water if the salsa isn't an easily spoonable consistency.  Taste and season with salt, usually about a generous ½ teaspoon.