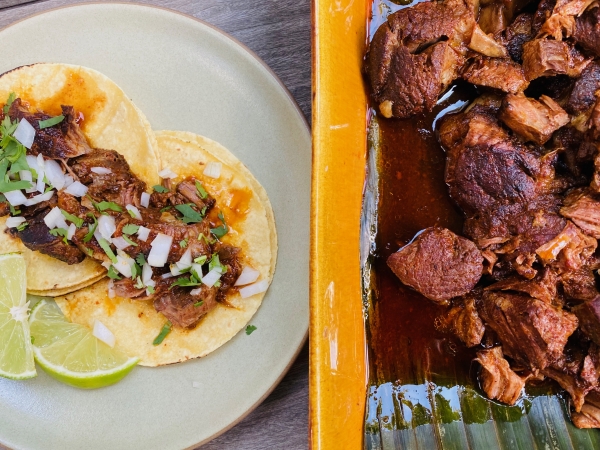 There are two classic Mexican barbacoa styles I'm obsessed with: central (lamb, no marinade, agave leaves) and Oaxacan (goat or lamb, red chile marinade, avocado leaves). Both are, of course, most glorious, when eaten on their native soil, preferably straight out of the rock-lined pit where they slowly cooked over a steaming pot of garbanzo-studded consomé that's served as a starter. You might get that opportunity in your life, but you deserve barbacoa more frequently than that. Since lamb (and, certainly, goat) aren't common in home cooking (especially if you're just making tacos), feel free to do what a great many home cooks do in Mexico: use beef. Pit cooking has been translated into cooking in a steamer by some Mexican cooks, into braising in an oven by others. However, if the meat is to be used for a simple taco dinner rather than a big celebration, I say you should use the slow cooker. It'll be your easiest path to deliciousness. Because you're not using a wood-fired pit to add flavor, I typically brown the meat first and season it with a red-chile marinade. And because of the mellowing affects of the long cooking time, I don't feel I have to give the dried chile a mellowing toast and before making the marinade. When it's available, I add a touch of authentic flavor by using a chunk of agave leaf (they sell it at many of the Mexican markets in Chicago) or a handful of avocado leaves. Though it's not traditional, the easiest way to get that touch of herbal quality in your barbacoa is to use banana leaves, easily available from Mexican and Asian markets and from well stocked groceries.
Ingredients
For the optional lining of the slow cooker

A 12-inch

chunk

of agave leaf (penca de maguey) OR a dozen or so good-size avocado leaves (available at Mexican groceries) OR a 2-foot piece of banana leaf

For the meat

2 to 3

tablespoons

vegetable oil or fresh-rendered pork lard

4

pounds

lamb shoulder (bone-in will provide the richest flavor) OR 3 to 4 pounds beef chuck roast (ditto above) OR 4 pounds beef short ribs (English cut) OR 3 pounds beef cheeks (like short ribs, these are really beefy tasting) OR 4 pounds beef shank

Salt

For the red chile adobo marinade

2

dried guajillo chiles,

stemmed, seeded and torn into large pieces

2

dried ancho chiles,

stemmed seeded and torn into large pieces

4

garlic cloves, peeled

2

tablespoons

vinegar (plus more if you think the marinade needs it)

1

teaspoon

salt

1

canned

chipotle chile en adobo

1/2

teaspoon

fresh black pepper

1/2

teaspoon

dried Mexican oregano

1/2

teaspoon

fresh allspice or cinnamon (preferably Mexican canela)

About 1/2

of a 12-ounce bottle of beer (Modelo Negra is a good—but completely optional)

For serving

20

warm corn tortillas

1

cup

roasted tomatillo salsa, chipotle salsa and/or Mexican hot sauce

3-4

limes, cut into wedges
Instructions
Prepare the slow-cooker.  If using agave leaf, roast over an open flame or under a broiler (being careful not to touch any of the exposed flesh of the leaf), turning frequently, until charred and pliable, 10 to 15 minutes.  Lay in the bottom of the slow-cooker.  If using avocado leaves, scatter half of them on the bottom of the slow-cooker and set the others aside.  If using banana leaf, drape it from side to side in the slow-cooker.  (If it feels too stiff to drape without cracking, you can soften it by slowly pulling it across the flame or coil of a burner.)
Prepare the meat. Heat enough oil to coat the bottom of a very large (12-inch) skillet over medium-high. (If your slow-cooker has a stove top-safe insert, you can use it to brown the meat—without the leaves, of course.). Pat the meat dry with paper towels, salt it liberally and lay it in the pan.  Brown on all sides—this will take 10 to 15 minutes, depending on the size and shape of the meat and pan.  (Beef cheeks will have to be done in batches.) Transfer to the slow-cooker (or, if using the cooker's insert, remove the meat and place in the leaves).  
Make the marinade and cook the meat. Combine all the marinade ingredients except the beer in the blender with 2 cups water and blend until smooth—this will take a minute or two because of the chiles' tough skins. Pass through a medium-mesh strainer into the slow-cooker, using enough to coat all sides of the meat.  (for 3 pounds of meat, you'll have a scant cup left to refrigerate and use as a grilling marinade.) Pour in the beer, if using.  Cover with the remaining avocado leaves or fold the banana leaves over the top, if either of those was your choice.  Cover and turn on the slow-cooker to high. Your barbacoa will be done in about 6 hours, though you can hold it longer.  (My slow-cooker can be programmed to switch from high after 6 hours to a "keep warm" temperature for up to another 6 hours.  You may have to switch yours to "keep warm" manually.)
Serve.  Coarsely shred the lamb and arrange it on a warm platter.  Skim any fat from the sauce that remains in the slow-cooker, then taste it.  If you feel the brothy sauce would be better with a more concentrated flavor, pour it into a medium saucepan (or, for stove top-safe inserts, simply remove the insert), and set over high heat.  Boil for a few minutes to reduce the quantity, then taste and season with salt if it needs it.  Spoon as much as you like over the lamb or beef (I like to sprinkle a little coarse salt over the meat at this point.). Serve the barbacoa with the tortillas, salsa and/or hot sauce, onion, cilantro and lime.  
No slow-cooker?  In a large (6- to 8-quart, at least 12-inch-diameter) heavy pot (preferably a Dutch oven), combine the ingredients as described.  Set the cover in place and braise in a 300-degree oven for about 3 hours, adding water occasion if necessary to ensure the liquid stays at about the same level.  Finish as outlined above.