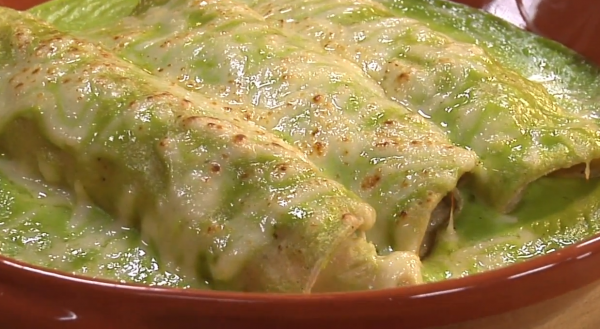 Recipe from Season 7, Mexico—One Plate at a Time
Ingredients
1

cup

(lightly packed) roughly chopped spinach leaves

2

cups

milk

2

cups

chicken broth

6

tablespoons (3 ounces)

butter, or you can use vegetable oil

3

garlic cloves, peeled and finely chopped

1/2

cup

flour

Salt

3

cups

coarsely shredded cooked chicken (I usually use a rotisserie chicken or leftover grilled chicken)

12

corn tortillas

A

little

vegetable oil for brushing or spraying

About 1

cup

Mexican melting cheese (Chihuahua, quesadilla, asadero or the like) or Monterey Jack, brick or mild cheddar

A

little

chopped cilantro, for garnish
Instructions
Make the sauce. Roast the poblanos directly over a gas flame or on a baking sheet 4 inches below a very hot broiler, turning regularly, until the skins have blistered and blackened on all side, about 5 minutes for an open flame, about 10 minutes under the broiler. Place in a bowl, cover with a kitchen towel and, when handleable, rub off the blackened skin, tear open and pull out the seed pod and stem. Quickly rinse to remove any stray seeds or bits of skin. Roughly chop and put in a blender jar. Add the spinach.
In a medium (3-quart) saucepan, combine the milk and broth, set over medium-low heat to warm.
In a large (4-quart) saucepan, melt the butter (or heat the oil) over medium. Add the garlic and cook for a minute to release its aroma, then add the flour and stir the mixture for a minute. Raise the heat to medium-high. Pour in the warm broth mixture and whisk constantly until the sauce boils. Reduce the heat to medium and simmer for 5 minutes. Remove from the heat.
Pour half the hot sauce into the blender with the chiles and spinach. Cover loosely (I remove the center part of the lid, secure the lid, then drape a cloth over the whole thing) and blend until smooth. Pour the mixture back into the saucepan with the remaining sauce. Taste and season with salt, usually about 2 teaspoons.
Finish the enchiladas. Heat the oven to 350 degrees. Smear about 1/4 cup of the sauce over the bottom of each of four to six 9-inch individual ovenproof baking/serving dishes or smear about 1 cup of the sauce over the bottom of a 13x9-inch baking dish. Stir 1 cup of the sauce into the chicken.
Lay half of the tortillas out on a baking sheet and lightly brush or spray both sides of the tortillas with oil; top each tortilla with another one and brush or spray those with oil. Bake just to warm through and soften, about 3 minutes. Stack the tortillas and cover with a towel to keep warm.
Working quickly so that the tortillas stay hot and pliable, roll a portion of the chicken up in each tortilla, then line them all up in the baking dish(es). Douse evenly with the remaining sauce and sprinkle with the cheese. Bake until the enchiladas are hot through (the cheese will have begun to brown), about 20 minutes. Garnish with the cilantro and serve without hesitation.