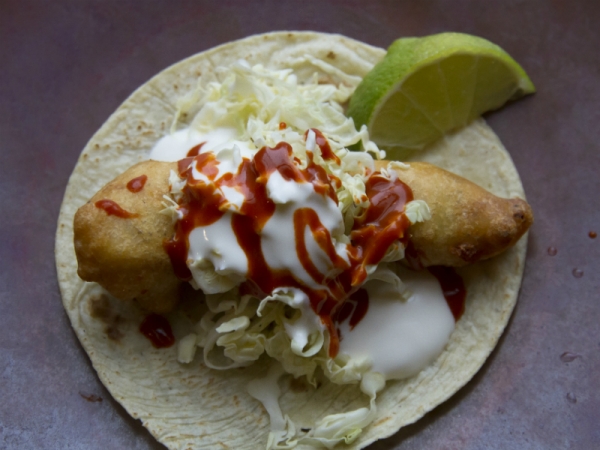 I know fish tacos are made in many places across both the United States and Mexico. But historians agree that they originated around the Mercado Negro fish market in Ensenada. What may have been grilled fish to start quickly became crispy fish wrapped in corn tortillas with some thin-sliced cabbage and salsa mexicana—simple, forthright flavors of the local cooking. Through the years, "Baja crema" became part of the story, as did the brash local dried chile salsa (for which I'm grateful). Those original fish tacos are by far my favorite, though I know that people everywhere have put their particular spin on these delicious wonders. For this batter recipe, I cobbled together what I learned from a handful of cooks who make fish tacos for a living in Ensenada. Most use water, though some use beer. Occasionally cooks will talk of eggs or yolks in the batter, but most I talked to don't use them. Here's the recipe for my favorite version of the original.
Ingredients
2

garlic cloves, peeled

Salt

1/2

teaspoon

Mexican oregano

1/2

teaspoon

fresh black pepper

1

teaspoon

yellow mustard (like French's)

1

teaspoon

concentrated chicken base or chicken-flavor powdered bouillon

1

cup

beer, sparkling water or water

1

cup

all-purpose flour (or use cake flour for a slightly lighter crust)

1

teaspoon

baking powder

1/3

cup

mayonnaise

1/3

cup

Mexican crema, crème fraiche or sour cream

about 1/4

cup

milk

1

cup

(or more) thinly sliced cabbage (I like Napa cabbage best)

About 1

cup

salsa (Chopped Tomato-Green Chile Salsa, Toasted Arbol Chile Salsa, Roasted Green Chile Salsa, or even one of the Mexican hot sauces like Tamazula or Valentina)

2 or 3

limes, cut into wedges

Vegetable oil to a depth of 1 1/2 inches for frying

1

pound

boneless, skinless fish filets (practically anything will work, but I like larger-flake, lighter-flavor fish best for this preparation—think halibut, sea bass, grouper, cod and the like)

12

warm corn tortillas
Instructions
Make the batter. Finely chop the garlic, sprinkle generously with salt, then mash back and forth with the side of your knife across your cutting board until crushed to a puree. Scrape into a medium bowl and add the oregano, black pepper, mustard, chicken base or bouillon, and ½ teaspoon salt.  Whisk in the beer or water, then add the flour and baking powder and whisk just until combined.
Prepare the condiments. Mix together the mayonnaise, crema or sour cream and enough milk to give the mixture an easily spoonable consistency; scrape into a serving bowl. Set out with the cabbage, salsa and limes in serving bowls. 
Fry the fish.  Heat the oil in a deep heavy skillet to 375 degrees. While the oil is heating, cut the fish into pieces about 3 inches long by 1/2 inch square. Use a pair of tongs to pick up a piece of fish, dip it completely into the batter, and lay it into the oil, letting it dangle a few seconds before letting it go (this helps to keep them from sticking on the bottom). Continue with a few more pieces of fish, filling the hot oil with an uncrowded layer. Fry, turning the pieces regularly, until deep golden and crisp, about 4 minutes. Drain on paper towels and keep warm in a low oven on a wire rack set over a sheet pan while you fry the rest of the fish.
Serve. Transfer the crispy fish to a warm platter.  Bring it to the table with the warm corn tortillas and all the condiments for everyone to make delicious tacos.