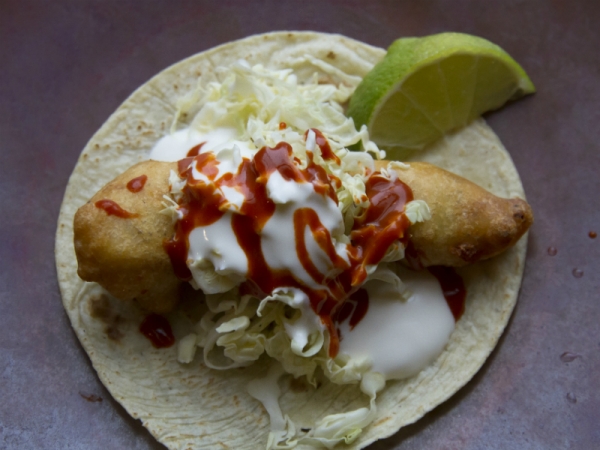 From Season 8,  Mexico—One Plate at a Time
Servings:
12
tacos, enough to serve 4
Ingredients
2

garlic cloves, peeled

Salt to taste

1/2

teaspoon

Mexican oregano

1/2

teaspoon

fresh black pepper

1

teaspoon

yellow mustard (like French's)

1

teaspoon

concentrated chicken base or chicken-flavor powdered bouillon

1

cup

beer, sparkling water or water

1

teaspoon

baking powder

1

cup

all-purpose flour

Vegetable oil to a depth of 1 1/2 inches for frying

1

pound

boneless, skinless fish filets (practically anything will work, but I like larger-flake, lighter-flavor fish best for this preparation—think halibut, sea bass, grouper and the like)

1/3

cup

mayonnaise

1/3

cup

sour cream or heavy (whipping) cream

1/4

cup

milk

12

warm corn tortillas

1

cup (or more)

thinly sliced cabbage (I like Napa cabbage best)

About 1

cup

salsa (toasted arbol chile salsa, roasted green chile salsa, roasted tomatillo salsa or even one of the Mexican hot sauces like Tamazula or Valentina)

2 or 3

limes, cut into wedges
Instructions
Finely chop the garlic, sprinkle generously with salt, then mash back and forth with the side of your knife across your cutting board until crushed to a puree. Scrape into a medium bowl and add the oregano, black pepper, mustard, base or bouillon, beer or water, and 1/2 teaspoon salt. Add the flour and baking powder to the wet ingredients and whisk just until combined.
Heat the oil in a heavy skillet to 370 degrees. While the oil is heating, cut the fish into pieces about 3 inches long by 1/2 inch square. Use a pair of tongs to pick up a piece of fish, dip it completely into the batter, and lay it into the oil. Continue with a few more pieces of fish, filling the hot oil with an uncrowded layer. Fry, turning the pieces regularly, until deep golden and crisp, about 4 minutes. Drain on paper towels and keep warm in a low oven on a wire rack set over a sheet pan while you fry the rest of the fish.
Mix together the mayonnaise, sour cream and milk. Set out with the cabbage, salsa, warm corn tortillas, limes and the crispy fish for everyone to make tacos.