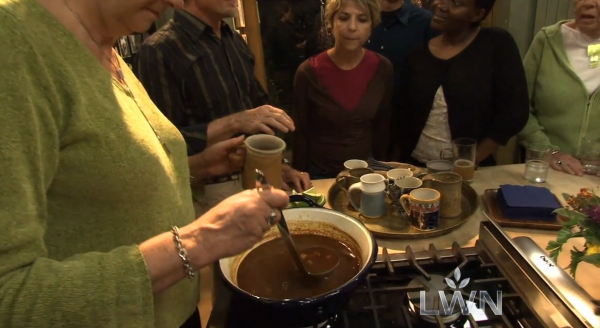 Recipe from Season 6 of Mexico—One Plate at a Time
Ingredients
2

tablespoons

olive oil

4

(about 1 1/2 ounces) large

dried pasilla negro chiles,

stemmed, seeded and torn into large pieces

6

large cloves garlic, peeled and halved

1/3

cup (a scant ounce)

dried shrimp

2

quarts

chicken broth (divided use)

Salt

4

medium (about 1 pound)

boiling potatoes (like the red-skin ones), cut into 1/4-inch pieces

4

large (about 1 pound)

carrots, peeled and cut into 1/4-inch pieces

2

large sprigs

fresh epazote

(if available)

1

pound

fresh medium-small shrimp (you'll have abourt 50 shrimps), peeled and deveined (if you wish)

2

limes, cut in wedges
Instructions
In a very large (8-quart) saucepan or a soup pot, heat the oil over medium. When hot, add the chiles and garlic. Stir constantly until the chiles are blistered, have noticeably changed color and have filled the kitchen with a toasty chile-infused aroma. Add the dried shrimp and 4 cups of the broth. Cover, reduce the heat to medium-low and simmer the mixture for 30 minutes.
Pour the mixture into a blender jar, set the lid loosely in place, cover with a kitchen towel and blend the mixture as smoothly as possible. Pour through a medium-mesh strainer back into the pot. (Straining will remove any bits of unblended chile skin.)
Add the remaining 4 cups of the broth, along with the potatoes, carrots and epazote. Taste and season with salt, usually about 2 generous teaspoons depending on the saltiness of your broth. Cover and simmer over medium to medium-low heat until the potatoes and carrots are tender, about 30 minutes. Stir in the shrimp and turn off the heat, wait a minute, then serve bowls or cupfuls of the soup for all your guests to enjoy, offering the lime wedges for each guest to squeeze in.