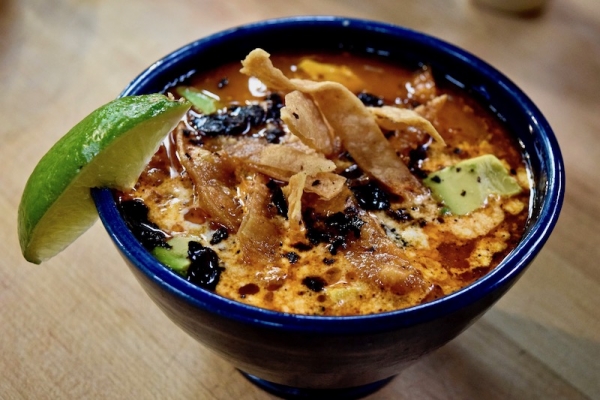 Servings:
6
as a first course, 4 as a main
Ingredients
For the broth

1

large

white onion, chopped into ½-inch pieces

1/2

head

head of garlic, cloves peeled and halved

3

pounds

bone-in flanken cut short ribs OR lamb shoulder chops (about 1 inch thick)

2

tablespoons

vinegar (optional, but it will give the broth a more velvety texture by drawing gelatinous components from joints and bones)

3

bay leaves

4 or 5

sprigs

of thyme (or a teaspoon dried thyme)

1

tablespoon

salt

For finishing the soup

Vegetable oil

to a depth of about 1 inch for frying

6

corn tortillas, cut into thin strips

3

dried

pasilla chiles, stemmed, seeded and torn into several flat pieces

4

garlic cloves, peeled and left whole

1

small

white onion, sliced

1

15-ounce can fire-roasted tomatoes, drained OR 12 ounces (about 2 medium-small round or 4 plum) ripe tomatoes, cored and roughly chopped

Salt

6

ounces

mild, good-quality feta, crumbled

A big

handful

of cilantro leaves

1

large

ripe avocado, pit removed, flesh scooped from the skin and cut into ½-inch pieces

1

large

lime, cut into wedges
Instructions
Make the broth. In the pot of your electric pressure cooker, combine all of the ingredients with 3 quarts of water (the level should be no higher than 2/3 of the depth of the pot).  Pressure cook on high for 1 hour.  Quick release the pressure, open the cooker and fish out just the meat.  Pull the meat from the bones, return the bones to the cooker, secure the top and pressure cook on high for another hour.  You'll get the best flavor if you let the pressure release naturally rather than utilizing the quick-release valve).  Strain the cooker's contents and you're ready to use your delicious broth. 
Other preliminaries.  In a medium (4-quart) saucepan, heat the oil over medium high until it is shimmering (about 350 degrees on a thermometer).  Test a strip of tortilla to make sure that it sizzles vigorously when laid into the oil.  In batches, fry the tortilla strips until they are crisp, usually just about a minute.  Using a slotted spoon or mesh spider strainer, remove the strips to paper towels to drain.  
Pour out all but a light coating of oil on the bottom of your saucepan, set over medium heat and, when hot,  lay in the flat chile pieces.  Turn them quickly as they toast, crisp and release their aroma—it'll only take about 10 or 15 seconds per side.  Remove to drain with the tortilla strips, then add the onion to the pan.  Cook, stirring regularly until richly browned, 8 to 10 minutes.  Add the garlic and stir for another minute or 2, until the garlic has softened. Scrape the mixture into a blender jar, leaving behind as much oil as possible.  Add half of the toasted chiles and all of the tomatoes.  Blend to a smooth puree. 
Set the saucepan over medium-high heat and, when hot, scrape in the puree.  Cook, stirring frequently, until reduced to the consistency of tomato paste, about 10 minutes.  Add 6 cups of your meat broth, the cumin, black pepper and oregano.  Bring to a boil, then simmer over medium-low for 30 minutes to bring the flavors together.  Taste and season with salt, usually about  1/2 teaspoon.   
Serve.  Divide the broth between warm bowls.  Top each with a portion of the tortilla strips, feta, cilantro leaves, avocado and remaining chile, crumbled between your fingers.  Pass the lime wedges for everyone to squeeze into the soup as they wish.