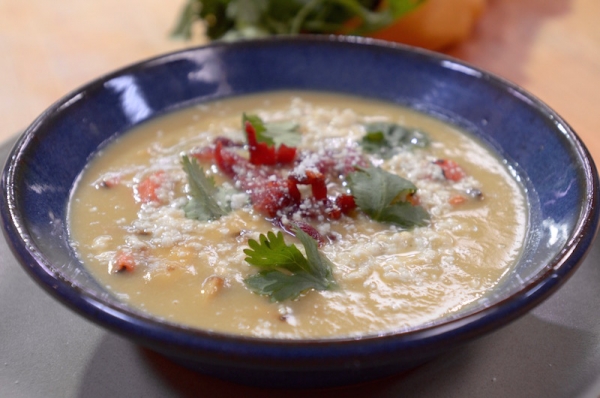 Ingredients
1/2

pound

root vegetables (I like a mixture of 4 carrots and 2 parsnips)

6

ounces

smoked meat, like smoked ham hock or pork shank, smoked turkey leg or smoked jowel

vegetable or olive oil

2

tablespoons

butter

1 1/2

pounds (about 6 small)

leeks, washed, roots cut off, cut in half lengthwise and each half sliced crosswise into ¼-inch pieces

3/4 to 1

pound (about 4-6)

fresh güero chiles (typically called hot or mild banana peppers), stemmed, seeded and sliced crosswise, about ¼-inch thick

1

pound

bag frozen lima beans (defrosted)

1

quart

chicken or vegetable broth

Salt

Handful

cilantro or flatleaf parsley, for garnish

A few

tablespoons

tablespoons grated Mexican queso añejo or other garnishing cheese such as Romano or Parmesan, for serving
Instructions
Heat a grill or grill pan to medium-high. Peel the root vegetables. Grill the vegetables to a nice char, turning regularly, about 2-3 minutes total. Remove from grill and set aside.
Using fingers to shred (or a knife to cut), break the ham hock (or one of its stand-ins) into bite-sized pieces. In a large (5- to 6-quart) soup pot, add about 2 tablespoons of oil over medium-high heat and add the smoked meat until crisp. With a slotted spoon, scoop the meat onto a paper towel to drain, leaving behind as much fat as possible.
Add the butter, leeks and chiles into the pot, cover and return to medium heat.  Let cook, stirring occasionally, until the leeks and chiles are very soft, about 10 minutes.  Uncover and continue to cook, stirring frequently, until the leeks and chiles look thoroughly melted and are just beginning to brown, about 10 minutes more.  Scrape the leek mixture into a blender jar, add half of the bag of the lima beans (about 1 ¾ cup) and the broth.  Blend until smooth and return to the pan.
Add the remaining beans and the charred vegetables to the soup and bring to a simmer over medium heat. Taste and season with salt, usually a scant teaspoon depending on the saltiness of your broth.  Let simmer for a few more minutes, then ladle into warm soup bowls, sprinkle with the crispy meat and garnish with the herb leaves and cheese.