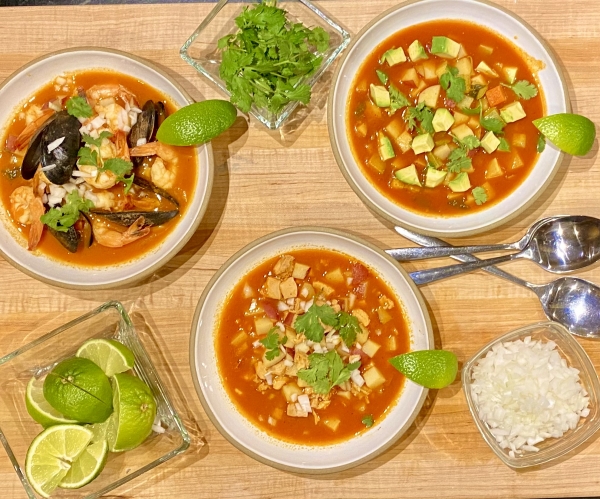 A caldo in Mexico is a soul-satisfying soup/stew. That's the way I'd describe, say, caldo de siete mares, seven seas soup/stew, that's so popular on Mexico's Gulf coast, where a huge earthenware bowl of assorted seafood is served in a richly flavored broth redolent of dried chiles and herbs. For most Americans, soup rarely spells main course and stew is rarely brothy. But Mexican caldos—pozole and menudo both fall into this category—are always brothy-ish main dishes. And they are always welcome when there is chill in the air. Though this recipe is inspired by the Gulf Coast seafood specialty, I've designed it for easy tailoring to both chicken and vegetable options.
Ingredients
6

garlic cloves, peeled

1

15-ounce

can of fire-roasted tomatoes

1 to 2

canned chipotle chiles en adobo, roughly chopped, plus some of their canning liquid

2

tablespoons

olive or vegetable oil

1

quart

chicken or vegetable broth

Chopped

fresh herbs

(a big sprig of epazote is traditional, but you can use, a small handful of cilantro or parsley), plus a little extra for garnishing the finished soup

1

pound (about 4 medium)

boiling potatoes (like the red-skinned ones), cut into roughly ½-inch pieces

For the Chicken

1 1/4

pounds

boneless skinless chicken (I prefer thigh meat here, but breast meat will work), cut into ½-inch pieces

For the Vegetable Version

3/4

pound

zucchini (if you live near a Mexican grocery, you can use the light-skinned calabacitas they typically sell there), cut into ½-inch cubes

A couple

of medium carrots or parsnips (or one of each), peeled if you wish and cut into ½-inch pieces

For the Seafood version

1

pound

mussels, scrubbed and any stringy-looking "beards" pulled off

3/4

pound

peeled, deveined shrimp (defrosted if frozen)—I like the largish ones that are about 25 to a pound

For all versions

1

ripe

(highly recommended for the vegetarian version), cut into small pieces, optional

About 1/2

cup

chopped white onion, rinsed under cold water, for serving

1 or 2

limes, cut into wedges, for serving
Instructions
Make the broth.  Scoop the garlic into a microwave-safe bowl, cover with water and microwave at 100% power for 1 minute.  Remove (it'll be hot!), drain and put the garlic in a blender or food processor, along with the tomato, chipotle chile(s) and 1 tablespoon of their canning liquid. Blend until smooth.  In a large (4-quart) saucepan, heat the oil over medium-high.  When hot enough to make a drop of the tomato puree sizzle sharply, add it all at once.  Stir regularly until the mixture is reduced to the consistency of tomato paste, about 5 minutes.  Add the broth, herbs, potatoes and 1 teaspoon salt, and bring to a boil.
If you're making the chicken version: Add the chicken now. Reduce the heat to medium-low and simmer until the chicken is done and the potatoes are tender, 15 to 20 minutes.
If you're making the vegetable version:  Add the carrots (and/or parsnips) now.  Reduce the heat to medium-low and simmer until those vegetables are nearly tender, about 15 minutes, then add the zucchini and simmer another 5 minutes or so, until that has softened as much as you like.
If you're making the seafood version: Reduce the heat to medium-low and simmer until the potatoes are nearly tender, about 15 minutes.  Raise the heat to medium-high and add the mussels.  Cover the pot and cook until the mussels have opened, 3 or 4 minutes, then add the shrimp.  Cook until they have turned from translucent to opaque, about a minute.
Finishing all versions:  Taste and season with additional salt if you think the broth needs it.  Ladle into large bowls and serve sprinkled with the avocado, chopped onion and more herbs.  Pass the lime wedges for everyone to squeeze in.