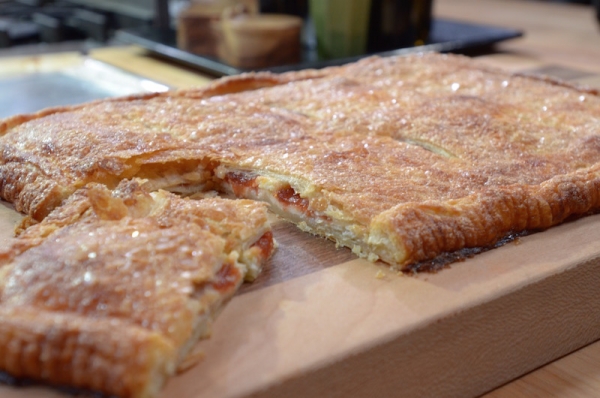 Ingredients
For the Pastry

1

package

of frozen puff pastry dough (I like Dufour brand) OR

1 1/4

cups

unsalted butter, chilled and cut into 1/2-inch cubes

2

cups

all-purpose flour, plus a dusting for work surface

3/4

teaspoon

salt

2/3

cup

cold water

For the pastry filling

1/4

cup

fresh goat cheese

4

ounces

cream cheese

3/4

cup (6 ounces)

whole milk ricotta

1/4

teaspoon

orange zest

1/8

teaspoon

ground black pepper

Salt

7

ounces

quince paste (available at well-stocked grocery stores and online)

1

egg, beaten

3

tablespoons

sugar

1/4

teaspoon

salt
Instructions
Make the rough puff Is using frozen puff pastry, follow directions on package to defrost and skip to the next step. To make a rough puff pastry, in a food processor add the flour and salt and pulse. Add 1/4 cup butter to the flour mixture and pulse a few more times to combine. (The butter won't incorporate completely; that's OK.) Add the remaining butter, pulse a few times, then add 1/3 cup of water to the flour mixture and pulse a few more times. Add remaining 1/3 cup water and pulse yet again. Dough should not form a ball. Scrape dough onto a work surface and press the ragged-looking mixture together.
Using a rolling pin, roll out the dough into a 10-by-20 rectangle, about 1/4-inch thick. Fold one-third of the 10-inch ends over the middle, then fold the bottom part of the dough over the top. You should have three layers. Gently flatten out the layered dough. Working from the shortest end, roll the dough up like a jelly roll. With the dough seam side down, shape into a rectangle. Wrap dough in plastic wrap and transfer to refrigerator for at least 3 hours or up to 3 days.
Make the filling Preheat the oven to 400 degrees.
Whip the goat cheese, cream cheese and ricotta in a food processor until smooth, about 2 minutes. Add the orange zest, black pepper and a pinch of salt, and pulse to combine.
Butter a sheet of parchment cut to fit a rimmed backing sheet. Cut puff pastry in half and roll out one half to fit the parchment. Trim any from the sides of the sheet pan. Spread cheese mixture over the dough in a 1/4-inch layer, leaving about a 1-inch border uncovered.
Place the slices of quince paste in a single layer on top of the cheese mixture. Roll out the remaining puff pastry to the same size (about 1/8-inch thick) and place it atop the layer of cheese and quince. Brush the border with a little of the egg wash. Using your fingers, crimp the top and bottom pastry edges together, then use the tines of a fork to seal the edges. Make 6 slits in the top with a sharp knife.
Brush the top of the puff pastry with the egg wash and sprinkle with sugar and salt.
Place tray on the middle rack and bake for 10 minutes. Drop oven to 350 degrees, rotate the pan, and continue cooking 40 more minutes, until golden brown. Cool about 30 minutes, then slice and serve.