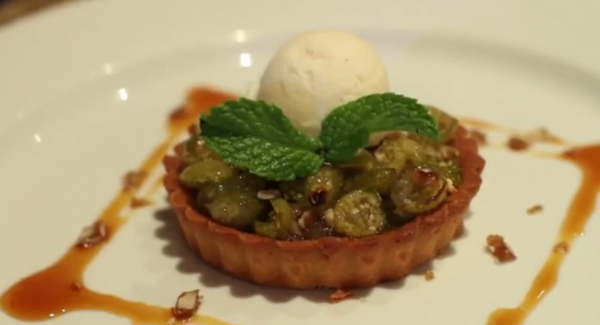 This recipe was given to us by Margarita Carrillo, one of our favorite chefs in Cabo.

From Season 8, Mexico—One Plate At A Time
Ingredients
For the crust

1 3/4

cups

all purpose flour, plus extra to prepare the tart pan

1

tablespoon

sugar

Salt

7

tablespoons

very cold unsalted butter, cut into small pieces, plus extra to prepare the tart pan

For the filling

1/3

cup

tapioca flour

1

pound

tomatillos,

husked, washed, cut into 1/4-inch slices

1

cup

sugar

salt

Zest of 1 large orange (1/2 teaspoon)

1/2

cup

toasted pecan pieces (divided use)
Instructions
Prepare the tart shell. Butter and flour a 9 1/2 or 10-inch tart pan with a removable bottom. In a large bowl, combine the flour, sugar and a pinch of salt. Scrape in the butter, and using your hands, mix the pieces of butter into the flour until the mixture looks like coarse crumbs. Drizzle in 3 tablespoons very cold water and work the mixture until it comes together into a ball. Add an additional tablespoon of water if the dough is dry and crumbly (it should hold together when you press it between you fingertips). Gather the dough together, place it onto a large sheet of plastic wrap and cover with another sheet of plastic wrap. Flatten it into a round disc and use a rolling pin to roll out the dough 2 inches larger than the tart pan. (It may have some cracks, but it patches easily.) Remove the top sheet of plastic wrap. Using the bottom sheet of plastic wrap, turn over the dough into the tart pan and peel off the final piece of plastic wrap. Pat the dough evenly over the bottom and sides. Prick the dough all over with a fork, making certain to prick the sides as well as the bottom. Chill in the refrigerator for at least 30 minutes.
Bake the tart shell. Heat the oven to 425 degrees and place a rack the middle of the oven. Place the chilled tart crust on a rimmed baking sheet and slide into the hot oven. Bake for 20 minutes or until the edges are slightly brown and the bottom no longer looks moist.
Prepare the tomatillo filling. In a small bowl, stir together the tapioca flour with 1/3 cup water. In a large bowl, combine the sliced tomatillos, sugar, a pinch of salt, orange zest and 1/4 cup of the pecans. Pour the flour mixture over the tomatillos and stir to combine. Scoop into the baked crust and gently spread all the way to the sides in an even layer.
Bake the tomatillo tart. Place in the oven and bake until the filling has set, about 45 minutes. (There will be a little movement in the very center of the tart which will finish setting up as it cools.) Remove the tart from the oven and sprinkle the remaining 1/4 cup pecans over the top. Serve at room temperature.