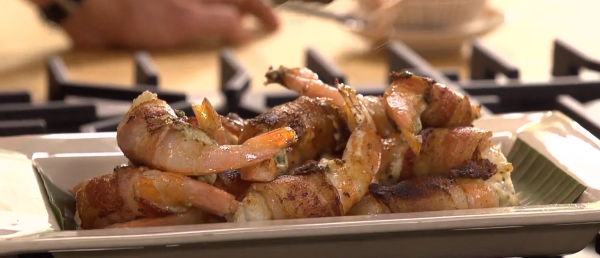 From Season 8,  Mexico—One Plate at a Time
Ingredients
20

large (about 1 1/4 pounds total)

shrimp, peeled (leaving the final shell segment and tail intact)

4

garlic cloves

1/4

cup

loosely packed chopped cilantro

1/2

teaspoon

black pepper

Salt

2

ounces

not-too-assertive cheese like brick, Jack, Manchego, mild cheddar, shredded

4

ounces

cream cheese, cut into 1/2-inch pieces

10

thin slices of bacon, cut in half

Salsa, everything from bottled Mexican hot sauce to roasted tomato or tomatillo salsa are great with these shrimp
Instructions
Cut a 1/2-inch deep incision (without cutting through the shrimp) down the inside of each of the peeled shrimp. Scrape out the (usually dark) vein—the intestinal tract.
Roast the garlic in a dry skillet over medium, turning frequently, until soft and blotchy black in spots, about 15 minutes. Cool and peel off the papery skin. In a medium bowl, mash the garlic with a fork until it is nearly smooth, then add the cilantro, black pepper and 2 cheeses. Mix, mashing everything together, until thoroughly blended and homogeneous. Taste and work in a little salt if you think necessary.
Scoop out a generous teaspoon of the filling and press it evenly over the butterflied part of a shrimp. Wrap the shrimp in a piece of bacon—to ensure that the bacon crisps, make sure it overlaps no more than an inch. Continue until all the shrimp are stuffed and wrapped.
Heat a heavy skillet (preferably cast iron) over medium-high. When thoroughly heated, lay the shrimp in the pan, overlap-side down. Cook until crisp underneath, about 1 minute, then turn each piece a quarter of a turn cook another minute. Continue until all 4 sides are browned in the same manner. The bacon needs to be thin enough that it can crisp in the same time it takes for the shrimp to cook: you'll know the shrimp are perfect when only a hint of pink translucency remains deep in the butterfly.