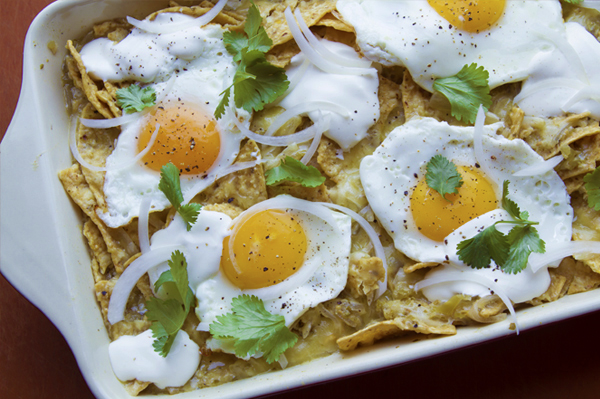 Recipe From Season 6 of Mexico - One Plate at a Time
Ingredients
3

tablespoons

vegetable oil

2

large

white onions, sliced ¼ inch thick (divided use)

3

cups

Frontera Roasted tomatillo Salsa

(1 ½ 16-ounce jars) or homemade (recipe below)

3

cups

chicken stock

1 1/2

cups (6 ounces)

shredded Mexican melting cheese (such as Chihuahua) or Monterey Jack, brick or mild cheddar (divided use)

12

ounces

tortilla chips, preferably thick, homemade-style ones (such as those from a tortilleria or a Mexican grocery store)

3/4

cup

Mexican crema,

creme fraiche or sour cream thinned with a little milk or cream

1/2

cup

freshly grated Mexican queso añejo

or other garnishing cheese such as Romano or Parmesan (optional)

A

handful of

cilantro leaves, for garnish

6

sunny-side-up eggs for serving (optional)
Instructions
Preheat your oven to 300 degrees.  In a large (4-quart) pot, heat the oil over medium-high. Add about 2/3 of the onion and cook, stirring regularly, until richly browned, 8 to 10 minutes.  Add the salsa and broth and bring to a rolling boil.  Turn off the heat and stir in 2/3 of the shredded cheese.
Pour the chips into a 13x9 inch baking dish and cover with the sauce, gently pressing the chips into the sauce, breaking up larger pieces, so that all of the chips are coated.  Sprinkle with the remaining 1/3 of the shredded cheese.  Cover the baking dish with foil, being careful not to let the top of the chips touch the foil.  Slide into the hot oven to heat through, 8 to 10 minutes.  When the chilaquiles are bubbling, remove from the oven, drizzle with the crema and sprinkle with the remaining onion.  Top with the queso aňejo and cilantro, and the optional sunny side up eggs. Serve without hesitation.
Roasted Tomatillo Salsa
Makes 3 cups
1 pound (about 5 - 7 medium) tomatillos, husked and rinsed
4 garlic cloves, unpeeled
1 or 2 fresh serrano chiles
1 small white onion, sliced ½ inch thick
Salt
Spread out all the ingredients on a rimmed baking sheet and slide it as close up under a preheated broiler as possible. After 4 or 5 minutes, when everything is blotchy-black and softening, turn the vegetables and roast the other side.  They will be finished when everything has cooked through (they should be soft) and have an attractive bit of rustic char.  Cool, then slip the skins off the garlic and pull the stem off the chiles.  In a blender or food processor, combine the tomatillos (and any juice on the baking sheet), garlic, chiles, onion and a scant teaspoon salt, and process to a coarse puree.