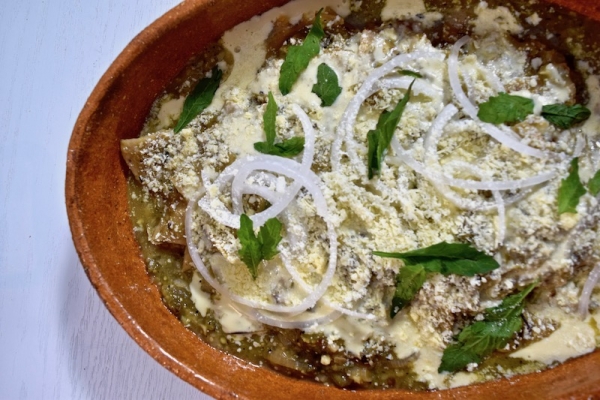 Servings:
4
as a casual main dish
Ingredients
12

(10 ounces total)

corn tortillas, cut into sixths, and fried or baked to make chips OR 8 ounces (8 to 12 loosely packed cups, depending on thickness) thick, homemade-style tortilla chips (such as ones you buy at a Mexican grocery)

1 1/2

pounds (9 to 12 medium)

tomatillos, husked and rinsed

2 to 3

fresh

serrano chiles, stemmed

1

large

white onion, sliced ¼ inch thick

3

garlic cloves, peeled and finely chopped

2 1/2

cups

chicken broth, vegetable broth or water, plus a little extra if needed

Salt

About 1/3

cup

homemade crema, crème fraiche or store-bought sour cream thinned with a little milk.

1/4

cup or more

finely crumbled Mexican queso añejo or other dry grating cheese such as Romano or Parmesan

A

handful

of fresh epazote leaves, roughly chopped
Instructions
The chips.  Make the chips or measure out the store-bought chips.   
The brothy sauce.  Spread the tomatillos and chiles onto a baking sheet and place them 4 inches below a very hot broiler.  When they're darkly roasted (they'll be blackened in spots), about 5 minutes, flip them over and roast the other side—5 minutes more will give you splotchy-black and blistered tomatillos that are soft and cooked through.  Cool. Transfer to a blender, along with all the juices on the baking sheet.  Blend the tomatillos and chiles to a puree, but one that still retains a little texture. You should have 2 ¼ cups puree.  
Over medium heat, set a medium-large (4- to 5-quart) pot or Dutch oven or a deep, large (12-inch) skillet—you'll need a lid for whatever vessel you choose. Measure in the oil, add half of the onion and cook, stirring regularly, until golden, about 7 minutes.  Add the garlic and stir for another minute, then raise the heat to medium-high.  Add the tomatillo puree and stir nearly constantly for 4 or 5 minutes, until the mixture thickens somewhat.  Stir in the broth or water and season with salt, usually about ½ teaspoon if you are using salted chips.  Cover the pot if not continuing with Step 3 right away. You should have 4½ cups of broth mixture.   
Cooking and serving the chilaquiles.  Set out the remaining onion, crema, and cheese. Put the pot over medium-high heat until the brothy sauce boils. Stir in the epazote and the tortilla chips, coating all the chips well.  Let return to a rolling boil, cover and turn off the heat.  Let stand 5 minutes (no longer).   
Uncover and to check that the chips have softened nicely—they should be a little chewy, not mushy.  (If they're too chewy, stir in a few tablespoons more broth, cover and set over medium heat for a couple minutes more.)   
Either spoon onto warm individual plates in the kitchen or serve directly from the vessel it was made in. Drizzle the chilaquiles with the crema (or one of its stand-ins), strew with the remaining sliced onion, and dust generously with the finely crumbled cheese. 
Working Ahead: The brothy sauce (Step 2) can be completed up to 3 or 4 days ahead; store in the refrigerator, covered.  Chilaquiles lose texture once they're made, so I complete the simple tasks of cooking and serving them when everyone's ready to eat.  Homemade chips for chilaquiles are fine made a day or two in advance.