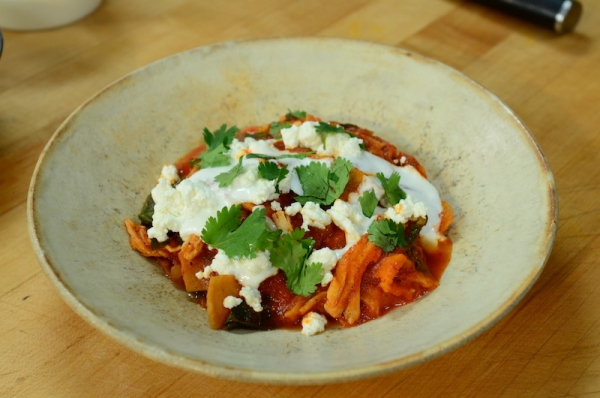 Ingredients
Vegetable oil

to a depth of about 1 inch for frying the chips and butternut, plus a little extra for making the sauce

6 (5 ounces)

corn tortillas, cut into ½-inch strips

1/2

of a peeled "neck" of a medium - to - small butternut squash (about 6 ounces), thinly sliced on a mandolin, the slices cut into ½ - inch strips

1/4

cup

corn starch

Two 14.5

ounce

cans fire-roasted tomatoes, drained

2 to 3

canned chipotle chile en adobo

, roughly chopped

About 2

tablespoons

vegetable oil

1

small

white onion, sliced ¼ inch thick

3

garlic cloves, peeled and chopped

2 1/2

cups

chicken broth

Salt

About 2

cups

sliced chard (pieces about ¼-inch wide, 2 inches long)

8

ounces

smoked chicken breast, tofu or cooked shrimp, optional

About 1/3

cup

Greek-style yogurt, thinned with a little milk

About 1/2

cup

crumbled fresh goat cheese

A handful

of cilantro leaves
Instructions
 Fry the tortillas and butternut.  Heat the oil to 375 degrees.  In batches, fry the tortilla strips and butternut in the hot oil until crisp, about a minute.  Drain on paper towels.  In a medium bowl toss the butternut strips with the corn starch, shake off excesss.  In batches, fry the butternut in the hot oil until crisp, about 4 to 5 minutes.  Drain on paper towels. 
Make the brothy sauce.  In a blender or food processor, combine the drained tomatoes and chipotles. Process until smooth. You should have about 2 ½ cups.  
Set a medium (4- to 5-quart) pot or Dutch oven or a large (12-inch) deep skillet over medium heat.  Film the bottom with a couple of tablespoons vegetable oil, and, when it's hot, add the onion, stirring until it is soft and richly browned, about 7 minutes.  Add the garlic, stir for a minute, then raise the heat to medium-high.  Add the tomato puree and stir nearly constantly until reduced to the consistency of tomato paste, 7 or 8 minutes.  Stir in the broth, bring to a simmer, then taste and season with salt (usually about 1 teaspoon).   
Finish the chilaquiles. Add the chard to the pot.  When the mixture returns to the boil, add the tortilla and butternut strips, stir a couple of times to coat everything evenly, turn off the heat and wait for a minute until the tortilla strips are as soft as you like.   
Spoon a portion of chilaquiles onto each of 4 warm deep serving plates (a pasta bowl works perfectly), top with chicken or one of its substitutes, sprinkle with the crumbled goat cheese, drizzle with a little of the thinned Greek yogurt, and strew with cilantro leaves.