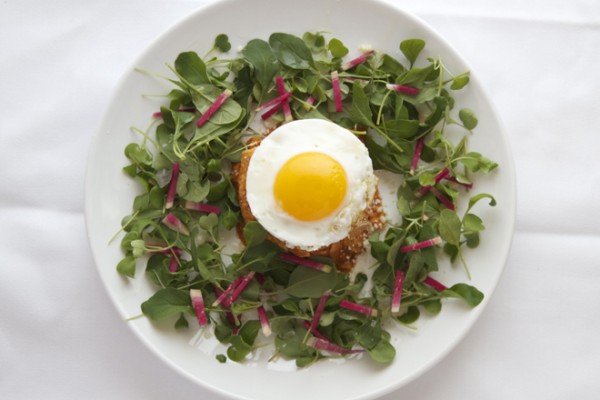 Ingredients
3

unpeeled garlic cloves

4

ounces (1/2 large)

white onion, sliced 1/2-inch thick

1 to 2

fresh habanero chiles

2

15-ounce cans diced fire-roasted tomatoes

2

sprigs

epazote

3

tablespoons

vegetable or olive oil (divided use)

Salt

10

ounces

thick tortilla chips

1/4

cup

crema

4

fried eggs, optional

4

ounces

greens or microgreens such as frisee, baby arugula or watercress

1/2

watermelon radish OR 2 breakfast radishes, cut into matchsticks
Instructions
Heat a large (10-inch) (non-stick or lined with foil) skillet over medium-high. Lay in the garlic, onion and chiles and cook, turning occasionally, until they're softened and darkened in spots, about 7 minutes. Let cool.
Heat 2 tablespoons of the oil in a medium-large (4- to 6-quart) heavy pot (preferably a Dutch oven) set over medium. When the vegetables are cool enough to handle, give the onion a rough chop and scoop it into the pot. Cook, stirring, until golden brown, 3 to 4 minutes. Chop the garlic, add it to the pot and cook until aromatic, about 1 minute more. Stem and chop the chile and add it to the pot along with the tomatoes and epazote. Bring the mixture to a boil, then reduce the heat and let it simmer, uncovered, for 10 minutes.
Transfer the sauce to a loosely-covered blender jar and process until smooth. Taste and season with salt, usually about 1 teaspoon. Return the sauce to the pot, set over medium heat and bring back to a simmer.
Pour the tortilla chips into the sauce and fold them into the sauce with a spatula until coated. Cover the pot and let the chips soften in the sauce for 3 minutes. Remove the pot from the heat.
Line 4 6-ounce ramekins with plastic wrap, leaving about 4 inches of overhang on either side. Use a slotted spoon to transfer the chilaquiles to the ramekins, filling each ramekin to the rim and packing the chips in lightly with the back of a spoon.
To serve the chilaquiles, place a plate over each ramekin, grasp the plate and ramekin firmly, then reverse the two. Gently lift off the ramekin and remove the plastic wrap. Top each mound of chilaquiles with 1 tablespoon of crema and sprinkle with 1 tablespoon of queso fresco. If you like, crown the chilaquiles with a fried egg. Arrange the greens around the chilaquiles, sprinkle the radishes over the greens and drizzle the salad with the remaining tablespoon of oil. Finish the plate with a sprinkling of salt and you're ready to serve.