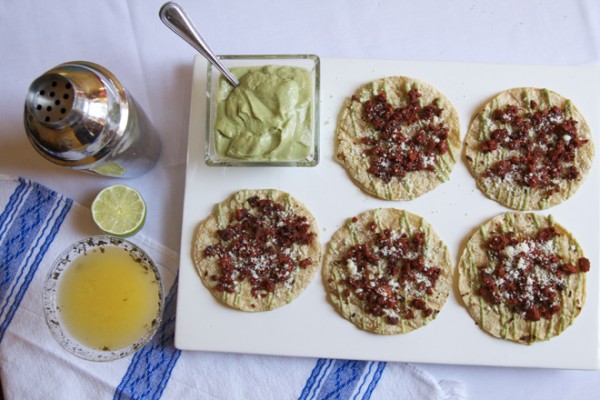 Recipe from Season 6, Mexico—One Plate at a Time
Servings:
24
as a nibble or light appetizer
Ingredients
About 2

dozen

corn tortillas, preferably thin homemade ones or ones from a local tortilleria

1/2

pound (about 4 medium)

tomatillos,

husked, rinsed and cut in half

3

garlic cloves, peeled

Hot green chiles

to taste (roughly 2 or 3 serranos or 1 or 2 jalapenos), stems broken off, roughly chopped

About 1/4

cup

(loosely packed) cilantro, thick lower stems cut off

1

large, ripe

avocado,

pitted, flesh scooped from peel and roughly chopped

Salt

About 1/4

cup fresh-rendered, room temperature pork

lard

(preferably the kind with bits of brown cracklings in it's what's called asiento in Oaxaca) or vegetable oil

About 1

pound

fresh Mexican chorizo sausage,

casing removed
Instructions
The tortillas. If the tortillas are just made and very moist feeling, lay them out in a single layer and cover with a dish towel or napkin - the goal is to let them dry to leathery, so that they'll crisp on the grill.
Make the tangy avocado sauce. Set a small non-stick skillet over medium-high heat (if no non-stick skillet is available, lay a piece of foil on the bottom of the skillet). Lay in the garlic and tomatillos (cut side down). When the tomatillos are well browned, 3 or 4 minutes, turn everything over and brown the other side. (The tomatillos should be completely soft.) Scoop the tomatillos and garlic into a blender or food processor, and let cool to room temperature, about 5 minutes. Add the chile, cilantro and avocado. Blend until nearly smooth. Pour into a salsa dish, thin to a drizzleable consistency with a little water, usually about 1/4 cup. Taste and season with salt, usually about 1 teaspoon.
The chorizo and fresh cheese. In a medium skillet, cook the chorizo over medium heat, breaking up any clumps, until well browned, about 12 minutes. Scrape out onto a plate lined with paper towels to absorb excess fat. Transfer to a serving dish. Scoop the crumbled cheese into a serving dish.
Grill and serve the tlayudas. Turn on a gas grill to medium or light a charcoal grill and let the coals burn until medium hot and covered with white ash. Lay several tortillas on the grill and turn every 20 seconds or so until nearly crisp - depending on the heat of your fire this should take a couple of minutes. Brush the top of each tortilla completely (and a little generously) with the lard or oil, then sprinkle each with a tablespoon of chorizo. When the tortillas are completely crisp (they'll be richly browned underneath) and the chorizo is hot, remove them to a serving platter. Drizzle with the avocado sauce and sprinkle with the cheese. Let your guest enjoy the first round while you're making the remainder.