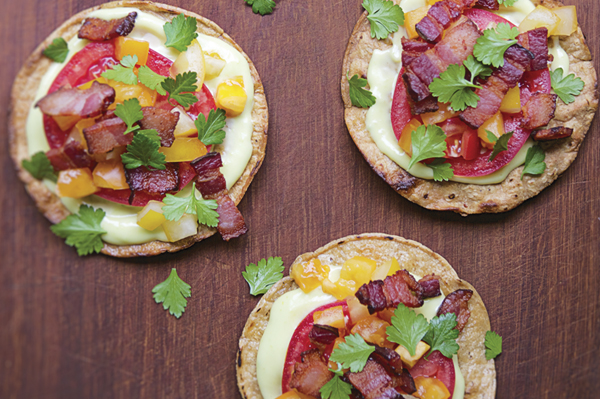 From Season 9, Mexico—One Plate At A Time
Ingredients
About 1 dozen corn tortillas, preferably ones from a local tortilleria

2

egg yolks

1

tablespoon

fresh-squeezed lime juice

1

cup

cooking oil (canola, rice bran or safflower would work best) or vegetable oil

1/2

avocado

flesh scooped from the skin

Fresh hot green chile to taste

(roughly 3 or 4 fresh serranos or 2 to 3 jalapenos), finely chopped

About 1/4

cup

(loosely packed) finely chopped cilantro, thick lower stems cut off, plus a few leaves for garnish

Salt

About

10 thick slices (10 ounces )

bacon, sliced crosswise in ½-inch pieces

A

generous pound

mixed heirloom tomatoes (different colors and sizes will make your finished dish more interesting), cut into ¼-inch pieces
Instructions
Lay the tortillas in a single layer, cover with a dish towel or napkin and let them dry for about a half hour (depending on their moistness) until they are leathery—this will enable them to crisp thoroughly on the grill.
Meanwhile, in a food processor, combine the egg yolks and lime juice and pulse until blended. With the machine running, slowly drizzle in the oil (the yolks and oil should emulsify and become creamy). Turn the machine off, add the avocado, green chile and cilantro. Let the processor run for another 20 seconds to ensure the additional ingredients are incorporated. You may have to stop the machine once or twice to scrape down the sides.  Taste and season with salt, usually about 1 teaspoon.  Scrape the mayonnaise into a bowl and set aside.
In a large (10-inch) skillet set over medium heat, cook the bacon,  stirring occasionally, until crispy, about 10 minutes. Remove the bacon and drain on a paper towel. Strain the fat into a small bowl—you need ¼ cup bacon fat (if you're lacking, add vegetable oil to bring it to that quantity).
When the tortillas are ready, turn on a gas grill to medium or light a charcoal fire and let the coals burn until medium hot and covered with grey ash. When you're ready to serve, lay several tortillas on the grill and turn every 20 seconds or so until they're golden brown and crasker-crisp; this will take 5 to 10  minutes depending on the heat of your fire. Brush the top of each tortilla generously with the bacon fat or oil and let the tortillas crisp a little longer, then remove them to a serving platter. Spread on some spicy avocado mayo and top with a portion of the tomatoes. Sprinkle each tostada with about a tablespoon of bacon, garnish with cilantro leaves and immediately serve to your guests while you make the next round.