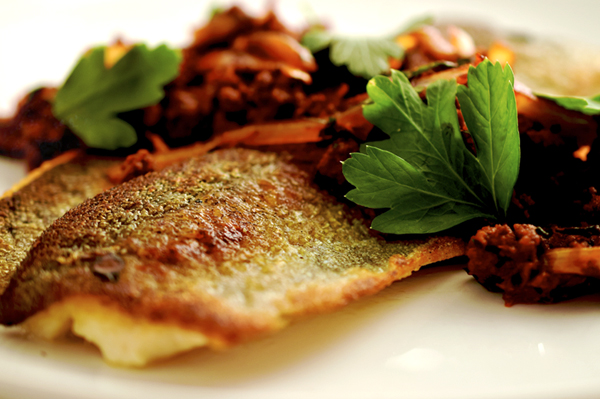 From Season 9, Mexico—One Plate At A Time
Ingredients
1/4

cup (2 ounces)

Mexican-style chorizo sausage,

casings removed

2 to 3

tablespoons

olive or vegetable oil

1

medium

red onion, sliced 1/8" thick

1

teaspoon

sugar

2

teaspoons

Worcestershire sauce

1

cup

dark Mexican beer, such as Negra Modelo

1 to 2

tablespoons

loosely packed, chopped parsley or cilantro, thick bottom stems removed, plus extra for garnish

Salt

Coarsely ground black pepper

4

skin-on, boneless trout fillets (they should weigh about 6 ounces each)
Instructions
In a very large (12-inch) skillet, brown the chorizo over medium-high heat, about 8 minutes. Add one tablespoon of the oil. Add onion and sugar to the pan, and cook until the onion softens and begins to brown, about 7 to 8 minutes. Add the Worcestershire, beer, herbs and salt, usually ½ teaspoon, and simmer until most of the liquid has reduced and the flavors have blended. Taste and season with more salt if it needs it.  Scrape the mixture into a small pan and keep warm over very low heat or in a low oven.
Pat the trout skin dry with paper towels and season with salt. Wipe out the skillet, add the remaining 1 to 2 tablespoons of the oil and set over medium high heat.  When the oil is hot, carefully lay the trout fillets in the skillet, flesh side down in a single uncrowded layer. Cook until the trout is barely done, 3 to 4 minutes per side. Sprinkle with black pepper.
Remove the trout fillets to a plate and top with the warm chorizo and onion mixture. Garnish with more chopped herbs and serve immediately.