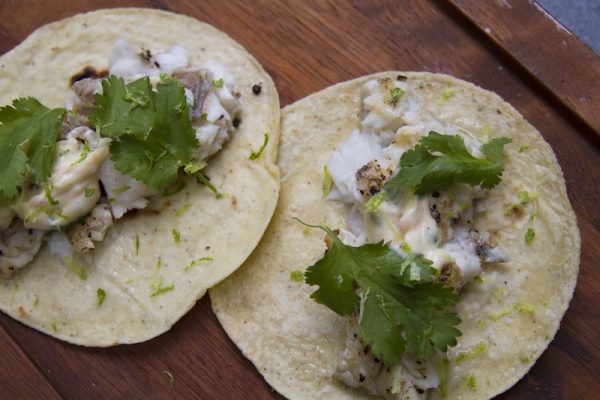 Ingredients
For the habanero puree

8

garlic cloves, unpeeled

2

tablespoons

apple cider vinegar

3/4

tablespoon

salt

1

teaspoon

agave syrup or honey

1

cup

mayonnaise

For the catfish tacos

1

pound

(about 4) catfish filets

2

teaspoons

black pepper, freshly cracked in a molcajete or freshly ground

Olive oil

Salt

Cilantro leaves

Zest

of one lime

12

warm corn tortillas
Instructions
Make the Habanero Puree Set a dry skillet over medium heat. Lay in the unpeeled garlic cloves and chiles. Roast, turning frequently, until soft and blotchy brown in spots, about 10 minutes for the chiles and 15 minutes for the garlic. Cool until handleable, then slip the skins off the garlic, pull stems off the chiles and roughly chop (no need to remove the seeds).  In a small food processor, place the roasted chiles and garlic, apple cider vinegar, salt and agave syrup. Pulse the mixture into a coarse puree.
Transfer 1 ¼ teaspoons of the puree to a bowl, reserving the rest for future use. Add mayonnaise and stir to combine.
For the tacos Light a charcoal fire and let the coals burn until covered with gray ash but still very hot; bank the coals to one side and set the grill grate in place. Or, heat one side of a gas grill to high.
Sprinkle the catfish filets with salt and freshly cracked or freshly ground black pepper. Spray the filets with oil and place on the grill, cooking about 3 minutes per side.
Remove the filets from the grill. Using a sharp knife, cut the filets into bite-sized pieces and place on warm tortillas. Top with a dollop of the habanero mayonnaise and garnish with cilantro leaves and lime zest.