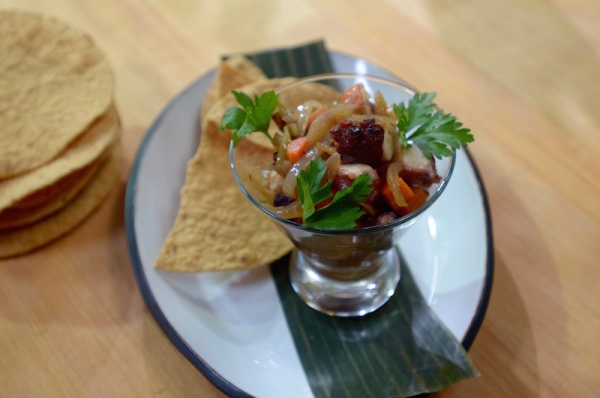 Ingredients
For the Escabeche

Salt

2

medium

carrots, peeled and cut into ½ inch pieces

1

medium

onion, sliced

2-3

güero chiles (aka hot or mild banana peppers), stemmed, seeded, and cut into ¼ inch strips

1/8

teaspoon

ground cumin

1/8

teaspoon

ground cloves

A scant 1/4

teaspoon

ground allspice

1/4

teaspoon

fresh black pepper

3

bay leaves

1 3/4

inch stick

Mexican Canela

1

cup

chicken stock

3

tablespoons

apple cider vinegar

Salt

For the Octopus

4

pounds

tenderized baby octopus, head removed and tentacles trimmed 1/2-inch from the bottom

Olive oil

A few

sprigs

parsley leaves for garnish

Store-bought tostadas for serving
Instructions
Light a gas grill, setting the temperature to high on the main burners; or light a charcoal fire, letting the coals burn until they're covered with gray ash and quite hot.
Set a large (8-inch) sauce pan over medium high heat. Film with 1/3 cup olive oil and add the carrots, onions and chile and cook until golden brown and nearly tender, about 6 minutes. Add the spices, bay leaves, canela, chicken stock, vinegar and salt, usually about 1 ½ teaspoons. Bring to a boil and simmer for about 15 minutes. Remove the bay leaves and cinnamon and allow to cool to room temperature.
Pat the octopus dry, drizzle with olive oil and sprinkle salt and pepper. Grill over direct heat, uncovered and sucker-side down for about 3-4 minutes, flipping halfway through. Cover the grill and cook another 4 minutes. Remove octopus from the grill and allow to cool.
Cut the octopus into 1-inch pieces and add to the escabeche. Garnish the mixture with parsley and scoop onto tostadas.