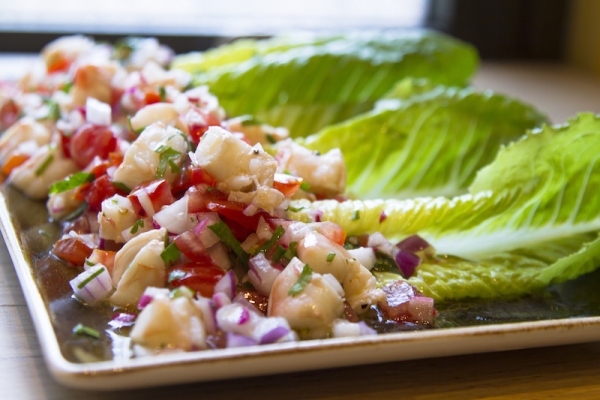 Recipe from Season 5, Mexico—One Plate at a Time
Ingredients
Shrimp

1

lime, halved

1/2

teaspoon

black peppercorns, very coarsely ground

1/4

teaspoon

allspice berries, very coarsely ground

3

bay leaves

12

ounces

shrimp (40 to 50 count), in their shells

Completing the Dish

1/2

small

red onion, cut into 1/4-inch dice

1

medium-small tomato, cored and cut into 1/4-inch dice

5

radishes, finely diced

1 1/2

tablespoons

finely chopped fresh cilantro

2 1/2

tablespoons

fresh squeezed lime juice

5

tablespoons

vegetable oil, preferably half olive oil and half vegetable oil

1

teaspoon

Salt

2 to 3

leaves romaine lettuce, for garnish

sprigs of cilantro, for garnish

12

warm corn tortillas, for serving
Instructions
Squeeze the two lime halves into a medium saucepan, then add the two squeezed rinds, the black pepper, allspice, bay leaves and 1 quart water. Cover and simmer over medium-low heat for 10 minutes.
Raise the heat to high, add the shrimp, re-cover and let the liquid return just barely to a simmer. Immediately remove the pan from the heat, hold the lid slightly askew and strain off all the liquid. Re-cover tightly, set aside for 5 to 8 minutes, until the shrimp are cooked through, then rinse the shrimp under cold water to stop the cooking.
Peel the shrimp, then devein them (if you want) by running a knife down the back to expose the dark intestinal track and scraping it out. If the shrimp are medium or larger, cut them into 1/2 -inch bits; place in a bowl.
Add the red onion, tomato, radish and cilantro to the shrimp. In a small bowl or jar with a tight fitting lid, combine the lime juice, oil and salt.
Shortly before serving, mix the dressing ingredients thoroughly, then pour over the shrimp mixture. Toss to coat everything well, cover and refrigerate or set aside at room temperature.
Line a shallow bowl with the lettuce leaves. Taste the shrimp mixture for salt, scoop it into the prepared bowl and serve, garnished with sprigs of cilantro.