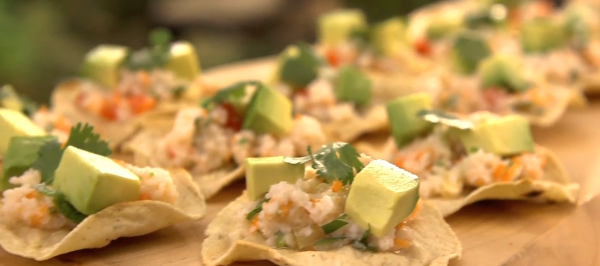 From Season 8, Mexico–One Plate at a Time
Servings:
3
1/2 cups, enough for 10-12 5-inch tostadas
Ingredients
1

pound

sashimi-quality skinless meaty ocean fish filet (many fish work well here, but halibut or bass are always reliable)

1/3-1/2

cup

fresh lime juice

1

medium-large red-ripe

tomato

seeded and finely chopped

1

small

carrot, peeled and shredded

Fresh hot green chiles

to taste (usually 1 to 2 serrano or 1 jalapeno chiles), stemmed, seeded and finely chopped

1/4

cup

(loosely packed) chopped fresh cilantro plus leaves for garnish if you wish

Salt

10-12

5-inch

tostadas

1

avocado

for garnish (optional)
Instructions
Cut the fish into 1-inch cubes and place in the freezer on a parchment-lined baking sheet for a few minutes until firm but not hard. Grind through the coarse disc of a meat grinder. (Alternatively, you can hand-chop the fish, which will take focus and perseverance, or you can chop it in small batches in a food processor, which will result in a slightly less-uniform grind.)
In a medium bowl, combine the fish, 1/3 cup lime juice, tomato, carrot and green chile. Cover and refrigerate for a few minutes for the flavors to mingle.
Taste and season with salt (usually about 1 teaspoon). Stir in a little more lime if the mixture looks dry or could use additional spark. Pile a portion onto each tostada and garnish with cilantro and avocado if you wish.